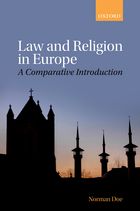 Law and Religion in Europe: A Comparative Introduction
Norman Doe
Oxford University Press 2011
Publisher's Abstract:
An invaluable aid to students studying law and religion, offering the first comparative introduction to the laws of religion in Europe
Explores and assesses the laws of religion in their national, EU, ECHR, and international contexts
Outlines the common principles of law on religion that emerge when examining the differences and similarities between national laws
Extensive references to primary materials points the reader directly to the source
Each state in Europe has its own national laws which affect religion and these are increasingly the subject of political and academic debate.
This book provides a detailed comparative introduction to these laws with particular reference to the states of the European Union. A comparison of national laws on religion reveals profound similarities between them. From these emerge principles of law on religion common to the states of Europe and the book articulates these for the first time. It examines the constitutional postures of states towards religion, religious freedom, and discrimination, and the legal position, autonomy, and ministers of religious organizations. It also examines the protection of doctrine and worship, the property and finances of religion, religion, education, and public institutions, and religion, marriage, and children, as well as the fundamentals of the emergent European Union law on religion.
The existence of these principles challenges the standard view in modern scholarship that there is little commonality in the legal postures of European states towards religion – it reveals that the dominant juridical model in Europe is that of cooperation between State and religion.
The book also analyses national laws in the context of international laws on religion, particularly the European Convention on Human Rights. It proposes that national laws go further than these in their treatment and protection of religion, and that the principles of religion law common to the states of Europe may themselves represent a blueprint for the development of international norms in this field. The book provides a wealth of legal materials for scholars and students. The principles articulated in it also enable greater dialogue between law and disciplines beyond law, such as the sociology of religion, about the role of religion in Europe today.
The book also identifies areas for further research in this regard, pointing the direction for future study.