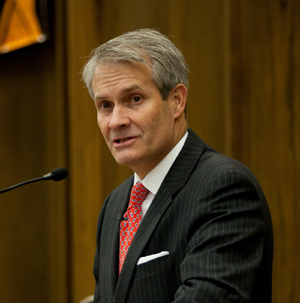 Text of Judge Griffith's address now available here.
The International Center for Law and Religion Studies was honored to welcome the Honorable Thomas B. Griffith, Judge United States Court of Appeals for the District of Colombia, as a keynote speaker at the opening session of the Seventeenth Annual International Law and Religion Symposium, held Sunday evening, 3 October 2010 in the Moot Court Room of the J. Reuben Clark Law School at Brigham Young University. Judge Griffith was appointed to the United States Court of Appeals in June 2005. He graduated from Brigham Young University in 1978 and from the University of Virginia School of Law in 1985. Judge Griffith was engaged in private practice from 1985 through 1989 in Charlotte, North Carolina, where he was an associate at Robinson, Bradshaw and Hinson, and from 1989 through 1995 and again in 1999 and 2000 in Washington, DC, where he was first an associate and then a partner at Wiley, Rein and Fielding. In private practice, his primary areas of emphasis were commercial and corporate litigation.
From 1995 through 1999, Judge Griffith was Senate Legal Counsel of the United States, the chief legal officer of the United States Senate. In 1999 and 2000, Judge Griffith was General Counsel to the Advisory Commission on Electronic Commerce, a congressional commission created to study the interplay between tax policy and electronic commerce. In 2002 and 2003, Judge Griffith was a member of the United States Secretary of Education's Commission on Opportunity in Athletics, which was charged with examining the role of Title IX in intercollegiate athletics. From 2000 until his appointment to the United States Court of Appeals, Judge Griffith was Assistant to the President and General Counsel of Brigham Young University in Provo, Utah. Judge Griffith is a member of the Executive Committee of the American Bar Association's Central European and Eurasian Law Initiative.