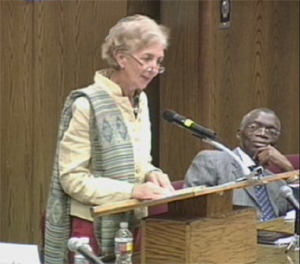 The Keynote speakers at the opening session of 16th Annual International Law and Religion Symposium, 4 October 2009, have devoted their careers to the cause of human rights. Anastasia Crickley, Chair of the European Union Fundamental Rights Agency, is Head of the Department of Applied Social Studies at National University of Ireland Maynooth, which plays a leading role in education and training for social justice and rights work. The Honourable Mr Justice Pius Nkonzo Langa has just concluded his term as Chief Justice of the South Africa Constitutional Court.
Professor Crickley opened her remarks with a tribute to ICLRS Director Cole Durham, thanking him and all of his colleagues for their support of her own work and praising Professor Durham's "wonderful" contributions to enhancing understanding and respect for religion and belief in very many places in the world. Referencing the Symposium theme, Professsor Crickley continued: "I attach great importance to connecting communities of discourse, for a more just, tolerant, and equal world, where freedom, including religious freedom, is cherished." In a time of great global challenges and uncertainties, she asserted, such connections, "which are ever more important, won't come about by simply wishing them into existence." In this regard, Professor Crickley welcomed the "robust and engaging discussion" about how such connections can be made possible, which she was confident would follow during the days of the conference. Remedy, she said, means not merely legal actions, but respect, redistribution of power and resources often held by the strong in oppression of the weak, to overcome "histories of colonization, domination, and exploitation that haunt us." Connectedness, she said, means not merely "being aware of other issues and dimensions, but taking them on board in discourse and action."
Discourse and action were likewise recommendations of Justice Langa. Noting that discussion between diverse peoples soon reveals that as "our social habits are of similar substance the world over," a "provincial discussion" is thus decipherable and meaningful to all, the story of South Africa is a story for us all. South Africa is a noisy country, he said, and "that noise is the cacophony made by a young, vibrant society … the noise of those who wish to be heard, to be included." In his remarks Justice Langa addressed "the constitutional values that mediate the noise, and how those values promote religious freedom." The South African constitution is a "common language" of a diverse people, "the patient conductor" of a noisy country, simultaneously a bastion, guardian of civil and political rights, an intervener enforcing social and economic rights, and a mediator allowing robust civic engagement. Most importantly it is a teacher, drafted from the collective memories of those who suffered oppression, from whom may come "compassion, understanding, and tolerance." Among the important lessons to learn from that collective memory, said Justice Langa, is that the oppressions of apartheid were grounded on law and justified by the churches. The new constitution is witness that law can be an instrument for good, and the invocation of the blessings of God in its preamble is witness to the continuing and fundamental importance of religion in South African society. But, said Justice Langa, "it is for us, the people, to see to it that both the the law and religion serve good."
Video recordings of the Keynote Addresses may be found at the Law School News link below.