Karl David & Lora Lee McAllister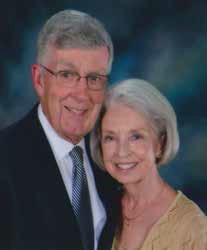 David McAllister's career focused mostly on Healthcare. He was the co-founder of a hospital management company which managed/owned 40 hospitals in rural communities. He served on the Board of Directors for several of those hospitals. Late in his career, David was co-founder of a firm which owned 35 assisted living facilities, many of which focused on the care and treatment of patients suffering from Alzheimer's disease. David was active in Scouting, earning the Silver Beaver Award. He graduated from Brigham Young University in accounting and is a CPA.
Lora McAllister and her husband, David, are members of the President's Leadership Council and served as national co-chairs for BYU-TV fundraising for six years. They have served two missions in Sydney, Australia and on Temple Square. Lora was a second grade teacher for two years before starting a new career – motherhood. Her love for teaching was practiced not only in the home with their children, but she has had numerous teaching and leadership positions in her church responsibilities. She graduated from Brigham Young University in elementary education. Lora and David have three children and are grandparents of nine grandchildren.