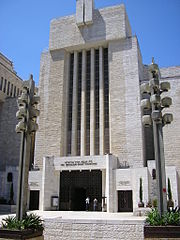 Religion in Israel
Religion in Israel is a central feature of the country and plays a major role in shaping Israeli culture and lifestyle, and religion has played a central role in Israel's history. Israel is also the only country in the world where a majority of citizens are Jewish. According to the Israel Central Bureau of Statistics, the population in 2011 was 75.4% Jewish, 20.6% Arab, and 4.1% minority groups. The religious affiliation of the Israeli population as of 2011 was 75.4% Jewish, 16.9% Muslim, 2.1% Christian, and 1.7% Druze, with the remaining 4.0% not classified by religion.
Israel has no entrenched constitution, but freedom of religion is anchored in law. While the Basic Laws of Israel that serve in place of a constitution define the country as a "Jewish state," these Basic Laws, coupled with Knesset statutes, decisions of the Supreme Court of Israel, and various elements of the common law current in Israel, also protect free practice of religion in the country. Legal accommodation of the non-Jewish communities follows the pattern and practice of the Ottoman and British administrations with some important modifications. Israeli law officially recognizes five religions, all belonging to the Abrahamic family of religions: Judaism, Christianity, Islam, Druzeism and the Bahá'í Faith. Furthermore, the law formally recognizes ten separate sects of Christianity: the Roman, Armenian, Maronite, Greek, Syriac, and Chaldean Catholic Churches; the Eastern Orthodox Greek Orthodox Church; the Oriental Orthodox Syriac Orthodox Church; the Armenian Apostolic Church; and Anglicanism. Members of unrecognized religions are free to practice their religion.
Religious self-definition
As of 2009, 8% of Israeli Jews defined themselves as Haredim; an additional 12% as "religious"; 13% as "religious-traditionalists" ; 25% as "non-religious-traditionalists" (not strictly adhering to Jewish law or halakha); and 42% as "secular" (Hebrew: חִלּוֹנִי, Hiloni). As of 1999, 65% of Israeli Jews believe in God, and 85% participate in a Passover seder. However, other sources indicate that between 15% and 37% of Israelis identify themselves as either atheists or agnostics.
Israelis tend not to align themselves with a movement of Judaism (such as Reform Judaism or Conservative Judaism) but instead tend to define their religious affiliation by degree of their religious practice. Of the Arab Israelis, as of 2008, 82.7% were Muslims, 8.4% were Druze, and 8.3% were Christians. Just over 80% of Christians are Arabs, and the majority of the remaining are immigrants from the former Soviet Union who immigrated with a Jewish relative. About 81% of Christian births are to Arab women.
Religion and citizenship
Israel was founded to provide a national home, safe from persecution, to the Jewish people. Although Israeli law explicitly grants equal civil rights to all citizens regardless of religion, ethnicity, or other heritage, it gives preferential treatment in certain aspects to individuals who fall within the criteria mandated by the Law of Return. Preferential treatment is given to Jews and their relatives who seek to immigrate to Israel. This serves to increase the Jewish population and provides asylum to people who face religious discrimination in the countries they emigrate from.
The Law of Return does not strictly follow the traditional Jewish religious law (halakha) in relation to the definition of who is a Jew. For example, some individuals who would be considered Jewish under halakha are excluded from the rights under the Law of Return – e.g. those who converted to another religion; while others are entitled to immigration though they are not considered Jewish under halakha, e.g. they are related by marriage to a Jew or a grandparent may have been a Jew.
Judaism
Most citizens in the State of Israel are Jewish, and most Israeli Jews practice Judaism in some form. In the last two centuries the largest Jewish community in the world, in the United States, has divided into a number of Jewish denominations. The largest and most influential of these denominations are Orthodox Judaism, Reform Judaism, and Conservative Judaism. All of the above denominations exist, to varying degrees, in the State of Israel. Nevertheless, Israelis tend to classify Jewish identity in ways that are strikingly different from American Jewry.
Secular-traditional spectrum
The Israeli term for Shomer Masoret (or Masorati) covers a wide range of ideologies and levels of observance, and is based on a self-definition phenomenon rather than an organized movement. However, the Shomer Masoret generally perceive themselves as a partly observants.
In 2007, a poll by the Israeli Democracy Institute found that 27% of Israeli Jews say that they keep the Sabbath, while 53% said they do not keep it at all. The poll also found that 50% of the respondents would give up shopping on the Sabbath as long as public transportation were kept running and leisure activities continued to be permitted; however only 38% believed that such a compromise would reduce the tensions between the secular and religious communities.
Because the terms "secular" and "traditional" are not strictly defined, published estimates of the percentage of Israeli Jews who are considered "traditional" range from 32% to 55%. Estimates of the percentage of "secular" Jews vary even more widely: from 20% not in citation given to 80% of the Israeli population.
Orthodox spectrum
The spectrum covered by "Orthodox" in the diaspora exists in Israel, again with some important variations. The Orthodox spectrum in Israel includes a far greater percentage of the Jewish population than in the diaspora, though how much greater is hotly debated. Various ways of measuring this percentage, each with its pros and cons, include the proportion of religiously observant Knesset members (about 25 out of 120), the proportion of Jewish children enrolled in religious schools, and statistical studies on "identity".
What would be called "Orthodox" in the diaspora includes what is commonly called dati ("religious") or haredi ("ultra-Orthodox") in Israel. The former term includes what is called Religious Zionism or the "National Religious" community (and also Modern Orthodox in US terms), as well as what has become known over the past decade or so as Hardal (haredi-leumi, i.e. "ultra-Orthodox nationalist"), which combines a largely haredi lifestyle with a nationalist (i.e. pro-Zionist) ideology.
Haredi applies to a populace that can be roughly divided into three separate groups along both ethnic and ideological lines: (1) "Lithuanian" (i.e. non-hasidic) haredim of Ashkenazic (i.e. "Germanic" – European) origin; (2) Hasidic haredim of Ashkenazic (mostly of Eastern European) origin; and (3) Sephardic (including mizrahi) haredim. The third group has the largest political representation in Israel's parliament (the Knesset), and has been the most politically active since the early 1990s, represented by the Shas party.
There is also a growing baal teshuva (Jewish penitents) movement of secular Israelis rejecting their previously secular lifestyles and choosing to become religiously observant with many educational programs and yeshivas for them. An example is Aish HaTorah, which received open encouragement from some sectors within the Israeli establishment. The Israeli government gave Aish HaTorah the real estate rights to its massive new campus opposite the Western Wall because of its proven ability to attract all manner of secular Jews to learn more about Judaism. In many instances after visiting from foreign countries, students decide to make Israel their permanent home by making aliyah. Other notable organizations involved in these efforts are the Chabad and Breslov Hasidic movements who manage to have an ever-growing appeal, the popularity of Rabbi Amnon Yitzhak's organization and the Arachim organization that offer a variety of frequent free "introduction to Judaism" seminars to secular Jews, the Lev LeAchim organization that sends out senior yeshiva and kollel students to recruit Israeli children for religious elementary schools and Yad LeAchim which runs counter missionary programs. Shalom Hartman Institute of Jerusalem runs the Be'eri program to bring Jewish thought, philosophy, culture and history to "secular" to more than 50,000 Israeli school students and IDF officers without teaching religious practice or demanding observance of religious norms.
At the same time, there is also a significant movement in the opposite direction toward a secular lifestyle. There is some debate which trend is stronger at present. Recent polls show that ranks of secular Jewish minority in Israel continued to drop in 2009. Currently the secular make up only 42%.
Secular–religious status quo
The religious status quo, agreed to by David Ben-Gurion with the Orthodox parties at the time of Israel's declaration of independence in 1948, is an agreement on the role that Judaism would play in Israel's government and the judicial system. The agreement was based upon a letter sent by Ben-Gurion to Agudat Israel dated 19 June 1947. Under this agreement, which still operates in most respects today:
The Chief Rabbinate has authority over kashrut, shabbat, Jewish burial and personal status issues, such as marriage, divorce, and conversions.
Streets in Haredi neighborhoods are closed to traffic on the Jewish Sabbath.
There is no public transport on the Jewish Sabbath, and most businesses are closed. However, there is public transport in Haifa, since Haifa had a large Arab population at the time of the British Mandate.
Restaurants who wish to advertise themselves as kosher must be certified by the Chief Rabbinate.
Importation of non-kosher foods is prohibited. Despite this prohibition, a few pork farms supply establishments selling white meat, due to demand therefore among specific population sectors, particularly the Russian immigrants of the 1990s. Despite the status quo, the Supreme Court ruled in 2004 that local governments are not allowed to ban the sale of pork, although this had previously been a common by-law.
Nevertheless, some breaches of the status quo have become prevalent, such as several suburban malls remaining open during the Sabbath. Though this is contrary to the law, the government largely turns a blind eye.
Many parts of the "status quo" have been challenged by secular Israelis regarding the Chief Rabbinate's strict control over Jewish weddings, Jewish divorce proceedings, conversions, and the question of who is a Jew for the purposes of immigration.
While the state of Israel enables freedom of religion for all of its citizens, it does not enable civil marriage. The state forbids and disapproves of any civil marriages or non-religious divorces performed amongst within the country. Because of this, some Israelis choose to marry outside of Israel.
The Ministry of Education manages the secular and Orthodox school networks of various faiths in parallel, with a limited degree of independence and a common core curriculum.
In recent years, perceived frustration with the status quo among the secular population has strengthened parties such as Shinui, which advocate separation of religion and state, without much success so far.
Today the secular Israeli-Jews claim that they aren't religious and don't observe Jewish law, and that Israel as a democratic modern country should not force the observance thereof upon its citizens against their will. The Orthodox Israeli-Jews claim that the separation between state and religion will contribute to the end of Israel's Jewish identity.
Signs of the first challenge to the status quo came in 1977, with the fall of the Labor government that had been in power since independence, and the formation of a right-wing coalition under Menachem Begin. Right-wing Revisionist Zionism had always been more acceptable to the Orthodox parties, since it did not share the same history of anti-religious rhetoric that marked socialist Zionism. Furthermore, Begin needed the Haredi members of the Knesset (Israel's unicameral parliament) to form his coalition, and offered more power and benefits to their community than what they had been accustomed to receiving, including a lifting of the numerical limit on military exemptions for those engaged in full-time Torah study.
On the other hand, secular Israelis began questioning whether a "status quo" based on the conditions of the 1940s and 1950s was still relevant in the 1980s and 1990s, and reckoned that they had cultural and institutional support to enable them to change it regardless of its relevance. They challenged Orthodox control of personal affairs such as marriage and divorce, resented the lack of entertainment and transportation options on the Jewish Sabbath (then the country's only day of rest), and questioned whether the burden of military service was being shared equitably, since the 400 scholars who originally benefited from the exemption, had grown to 50,000[citation needed]. Finally, the Progressive and Masorti communities, though still small, began to exert themselves as an alternative to the Haredi control of religious issues. No one was happy with the "status quo"; the Orthodox used their newfound political force to attempt to extend religious control, and the non-Orthodox sought to reduce or even eliminate it.
In 2010 a report released by the Israel Central Bureau of Statistics showed that 8% of Israel's Jewish population defines itself as ultra-Orthodox, 12% as Orthodox, 13% as traditional-religious, 25% as traditional, and 42% as secular, on a descending scale of religiosity. Among the Arab population it showed that 8% define themselves as very religious, 47% as religious, 27% as not very religious, and 18% as not religious.
Chief Rabbinate
It was during the British Mandate of Palestine that the British administration established an official dual Ashkenazi-Sephardi "Chief Rabbinate" (rabbanut harashit) that was exclusively Orthodox, as part of an effort to consolidate and organize Jewish life based on its own model in Britain, which encouraged strict loyalty to the British crown, and in order to attempt to influence the religious life of the Jews in Palestine in a similar fashion. In 1921, Rabbi Abraham Isaac Kook (1864–1935) was chosen as the first Ashkenazi Chief Rabbi and Rabbi Jacob Meir as the first Sephardi Chief Rabbi (Rishon LeTzion). Rabbi Kook was a leading light of the religious Zionist movement, and was acknowledged by all as a great rabbi of his generation. He believed that the work of secular Jews toward creating an eventual Jewish state in Eretz Yisrael was part of a divine plan for the settlement of the land of Israel. The return to Israel was in Kook's view not merely a political phenomenon to save Jews from persecution, but an event of extraordinary historical and theological significance.
Prior to the 1917 British conquest of Palestine, the Ottomans had recognized the leading rabbis of the Old Yishuv as the official leaders of the small Jewish community that for many centuries consisted mostly of the devoutly Orthodox Jews from Eastern Europe as well as those from the Levant who had made aliyah to the Holy Land, primarily for religious reasons. The European immigrants had unified themselves in an organization initially known as the Vaad Ha'ir, which later changed its name to Edah HaChareidis.The Turks viewed the local rabbis of Palestine as extensions of their own Orthodox Hakham Bashis ("[Turkish] Chief Rabbi/s") who were loyal to the Sultan.
Thus the centrality of an Orthodox dominated Chief Rabbinate became part of the new state of Israel as well when it was established in 1948. Based in its central offices at Heichal Shlomo in Jerusalem the Israeli Chief rabbinate has continued to wield exclusive control over all the Jewish religious aspects of the secular state of Israel. Through a complex system of "advice and consent" from a variety of senior rabbis and influential politicians, each Israeli city and town also gets to elect its own local Orthodox Chief Rabbi who is looked up to by substantial regional and even national religious and even non-religious Israeli Jews.
Through a national network of Batei Din ("religious courts"), each headed only by approved Orthodox Av Beit Din judges, as well as a network of "Religious Councils" that are part of each municipality, the Israeli Chief Rabbinate retains exclusive control and has the final say in the state about virtually all matters pertaining to conversion to Judaism, the Kosher certification of foods, the status of Jewish marriages and divorces, and monitoring and acting when called upon to supervise the observance of some laws relating to Shabbat observance, Passover (particularly when issues concerning the sale or ownership of Chametz come up), the observance of the Sabbatical year and the Jubilee year in the agricultural sphere.
The Israel Defense Forces also relies on the Chief Rabbinate's approval for its own Jewish chaplains who are exclusively Orthodox. The IDF has a number of units that cater to the unique religious requirements of the Religious Zionist yeshiva students through the Hesder program of combined alternating military service and yeshiva studies over several years.
Karaites
The Karaite community in Israel, with an estimated population of 12,000 lives mainly in Ramla, Ashdod and Beer-Sheva.
Read more at http://en.wikipedia.org/wiki/Religion_in_Israel.