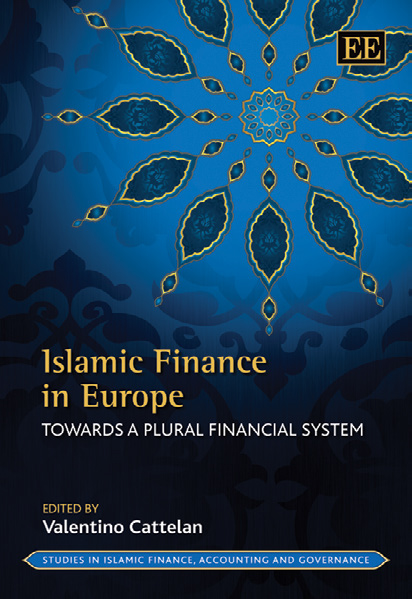 Islamic Finance in Europe: Towards a Plural Financial System
Valentino Cattelan
Edward Elgar Publishing 2013
'A thought provoking and scholarly compendium of essays on various important aspects of Islamic finance. The book is wider ranging than its title suggests; the key chapters do focus on the EU, but there are broader and particularly interesting topics including women and Islam and financial stability and development in the context of Islam. Overall a solid assessment of the progress Islamic finance has made in Europe.' – John Presley, Loughborough University, UK
Contributors: S.S. Ali, M. Asutay, V. Cattelan, I.-Z. Cekici, E. de Rosmorduc, J. Ercanbrack, A. Farhoush, G. Gimigliano, M. Mahlknecht, W. Menski, E.M. Napolitano, C. Porzio, D. Scolart, F. Stainier, M.G. Starita, L.M. Visconti, L. Weill
Further information
Highlighting the impact of current globalization on financial markets, this topical book challenges the universality of Western property rights and interprets Islamic finance in Europe as part of a plural financial system, where different conceptions of economic justice(s) co-exist and influence each other.
The contributing authors analyse key economic development and social integration issues from an Islamic perspective and outline the European approach to accommodating Islamic finance, with particular regard to the peculiarities of individual nation-states. Set in this context, the book presents financial pluralism as a device to enhance a level playing field in the global marketplace, as well as to foster a plural open society.
Providing a comprehensive and methodological guide to Islamic finance in Europe, this book will prove an illuminating and informative read for academics, students and policymakers with an interest in the impact on financial regulation of an increasingly globalized world.
Contents
Preface
1. Introduction. Babel, Islamic Finance and Europe: Preliminary Notes on Property Rights Pluralism
Valentino Cattelan
PART I: PLURALISM AND ISLAMIC FINANCE: CONCEPTUAL TOOLS
2. Law as a Kite: Managing Legal Pluralism in the Context of Islamic Finance
Werner Menski
3. A Glimpse through the Veil of Maya: Islamic Finance and its Truths on Property Rights
Valentino Cattelan
PART II: ISLAMIC FINANCE, ECONOMIC DEVELOPMENT AND SOCIAL INTEGRATION
4. Islamic Moral Economy as the Foundation of Islamic Finance
Mehmet Asutay
5. Financial Stability and Economic Development: An Islamic Perspective
Salman Syed Ali
6. Islamic Banking Contracts and Risk Profile of Islamic Banks
Claudio Porzio and Maria Grazia Starita
7. The Economic Impact of Islamic Finance and the European Union
Laurent Weill
8. Migrant Banking in Europe: Approaches, Meanings and Perspectives
Luca M. Visconti and Enzo M. Napolitano
9. Women's Empowerment and Islam: Open Issues from the Arab World to Europe
Deborah Scolart
PART III: ISLAMIC FINANCE IN EUROPE: ACCOMMODATING PLURALISM IN STATE LEGISLATIONS
10. Islamic Banking in the European Union Legal Framework
Gabriella Gimigliano
11. Regulating Islamic Financial Institutions in the UK
Jonathan Ercanbrack
12. Luxembourg: A Leading Domicile for Shari'ah Compliant Investments
Eleanor de Rosmorduc and Florence Stainier
13. Managing Islamic Finance vis-à-vis Laïcité: The Case of France
Ibrahim-Zeyyad Cekici
14. A Critical View on Islamic Finance in Germany
Azadeh Farhoush and Michael Mahlknecht
15. The Development of Islamic Banking in Turkey: Regulation, Performance and Political Economy
Mehmet Asutay
16. Conclusions. Towards a Plural Financial System
Valentino Cattelan
Index