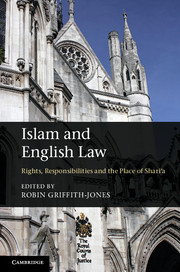 Islam and English Law: Rights, Responsibilities and the Place of Shari'a
Robin Griffith-Jones, ed.
Cambridge University Press – Academic 2013
Former Archbishop of Canterbury Rowan Williams triggered a storm of protest when he suggested that some accommodation between British law and Islam's shari'a law was 'inevitable'. His foundational lecture introduced a series of public discussions on Islam and English Law at the Royal Courts of Justice and the Temple Church in London. This volume combines developed versions of these discussions with new contributions. Theologians, lawyers and sociologists look back on developments since the Archbishop spoke, and forwards along trajectories opened by the historic lecture. The contributors provide and advocate a forward-looking dialogue, asking how the rights of all citizens are honoured and their responsibilities met. Twenty specialists explore the evolution of English law, the implications of islam, shari'a and jihad, and the principles of the European Convention on Human Rights, family law and freedom of speech. This book is for anyone interested in the interaction between religion and secular society.
Features contributions from a global cast of lawyers, sociologists and theologians, for a truly interdisciplinary approach towards the topic
Focuses on practical issues, considering what will or will not lead to greater justice
The volume is a measured response to Rowan Williams' lecture on shari'a law, which triggered a storm of protest in the media
Editor
Robin Griffith-Jones, The Temple Church, London
Robin Griffith-Jones is Master of the Temple at the Temple Church and Senior Lecturer in Theology, King's College London. He is author of The Four Witnesses (2000), The Gospel According to Paul (2004) and Mary Magdalene (2008). He initiated and managed the series of public discussions at the Temple Church, Islam and English Law, that was launched with the Archbishop of Canterbury's historic lecture on shari'a law.
Contributors
Robin Griffith-Jones, Stephen Hockman, Rowan Williams, Nicolas Bratza, Dominic McGoldrick, Mashood A. Baderin, Christopher McCrudden, Elizabeth Butler-Sloss, Mark Hill, Ian Edge, Prakash Shah, Shaheen Sardar-Ali, Marion Boyd, Sydney Kentridge, Tariq Modood, Albie Sachs, Abdullahi An-Na'im, Tariq Ramadan, Khaled Abou El Fadl, David F. Ford, Nicholas Phillips