In Memoriam: Richard Hunter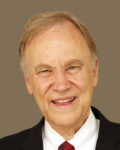 June 29, 1938 – September 9, 2021
Provo, Utah—Richard Allen Hunter was born on June 29, 1938, in Los Angeles, California, youngest of three sons born to Howard W. Hunter and Clara May Jeffs and died at age 83 on September 9, 2021.
From boyhood through his young adulthood, Richard was adventurous, curious, and athletic. When he attended Seminary Graduation in May 1956, the newly graduated high school boy looked up at the young woman speaking and said, "That's the girl I'm going to marry." A few months later Richard finally met Nan Greene. On their second date Richard boldly asked, "Nan, will you marry me?" Her reply came as much as a surprise to her as to him, when she confidently said, "Yes, if I love you, and if you are the most wonderful man in the world." After serving a mission for the Church in Australia and five and a half years after meeting, Nan finally said, "Yes!" because she loved him, and because she deemed him the most wonderful man in the world.
Richard attended Brigham Young University graduating with a degree in accounting and a minor in English and went to Berkeley for law school. In 1967 he began a private practice of law in San Jose, California, following in his father's footsteps.
Richard's church service included serving as Bishop, Stake President, Mission President, and Temple President. He is survived by his wife of 60 years, daughters Kathleen (Rob Peterson), Anne (Steve Hayden), Michael (Virginia), and grandchildren.
Obituary: https://www.legacy.com/us/obituaries/deseretnews/name/richard-hunter-obituary?pid=200132277