ICLRS Student Fellow Ian Collins, Externship in Johannesburg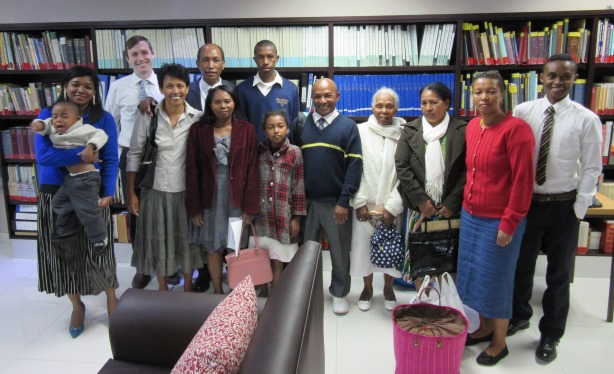 BYU Law student Ian Collins spent a summer 2015 externship in Johannesburg, South Africa, working at The Church of Jesus Christ of Latter-day Saints Office of General Counsel for the Africa South East Area.
Because the LDS Church has multiple entities in most of the sub-Saharan African nations along with islands found to the east of Africa such as Madagascar and Mauritius, Ian ensures that they are all registered with their respective governments and that they pay their taxes. This requires corresponding with local counsel to get laws or opinions about registration requirements and tax obligations.
"It was such a big job with so many countries and entities that I felt that I was juggling a dozen things in the air all at once," Collins said. "We worked on several countries a day and often had to keep checking back to other countries to see if local counsel had responded."
Collins is grateful for the preparation his first year of law school provided. "BYU Law gave me the research and writing skills I needed to do well in this externship," he said. "I have always felt confident doing assignments because of the preparation I received at school this last year."
Hoping for an externship where he could use his language skills, Collins was delighted to come to this particular office. "I served in Madagascar and preached the gospel in the native Malagasy language which is only spoken there," he said. "Since there is no LDS temple in Madagascar, members who visit the temple come to the Johannesburg temple which is right next to the office I worked in. This gave me several opportunities to translate for some of the other offices, like family history, that we shared a building with.
"I did get one opportunity to use my language on a small legal project. Our office prepares prospective missionaries who are going to the United States to pass their visa interviews. I was able to speak with this prospective sister missionary in her own language and prepare her for the interview."
Collins states that this externship has broadened his law school experience: "I have received practical knowledge that would have been almost impossible to get in a classroom setting at law school. I
have learned just how careful you have to be when practicing law, especially when you are doing things in many countries. You have to be very careful to make sure that you are aware of all the different laws."
He also sees this experience paving the way to future jobs. "Few law students go abroad to do externships so I believe this externship will help me stand out from other applicants," Collins said. "Further, I got opportunities to do things most American law students will never do at any point in their careers. I made sure our entities complied with the laws of over 20 nations and worked with counsel in all those nations to ensure that we do comply with the laws."
Article courtesy BYU Law School News