ICLRS Service Awards to Outstanding BYU Law Students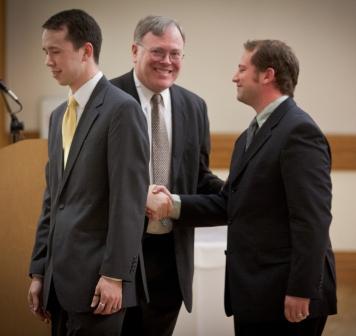 At the BYU Law Schools Barrister's Ball Awards Ceremony on 30 March 2012, the International Center for Law and Religion Studies was pleased to make the following awards to graduating students who have made extraordinary contributions to work of the Center.
The Outstanding Service Award was presented to Jordan Teuscher, Rebecca Hansen, and M. Brandon Bastian.
The Three-Year Law and Religion Symposium Service Award was presented to Tyler Albrechtsen, Heath Becker, Kimberly Tolman, and Nate White.
Please click their names to read more about these remarkable students.