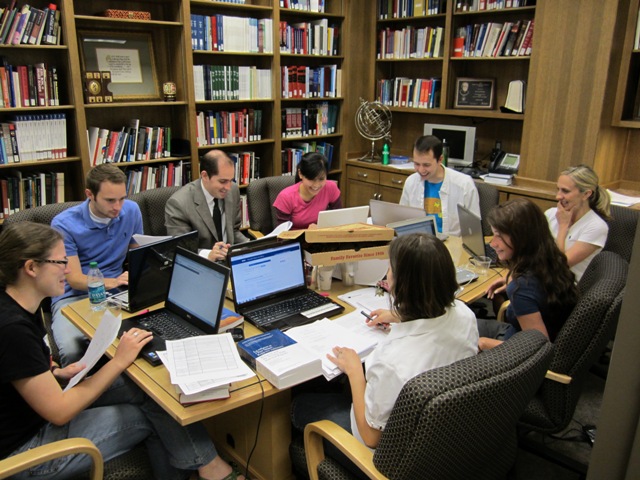 The International Center for Law and Religion Studies of the J. Reuben Clark Law School at Brigham Young University prepared an amicus brief in support of the Petitioner in Hosanna-Tabor Evangelical Lutheran Church and School v. EEOC, heard during the fall term of the Supreme Court of the United States. The case is seen by many as the most important religious freedom case to come before the court in decades.
The Center was invited to provide a comparative perspective in the case, drawing upon pertinent widespread global principles of religious autonomy to "underscore the distinctive strengths of the American approach and to highlight the hazards of narrowing religious autonomy in this critical domain." Under the direction of Center Director W. Cole Durham, Jr., Counsel of Record, Center Managing Director Robert T. Smith organized and supervised the brief team, with Associate Director Elizabeth A. Clark assuming the principal task of drafting the text. All Center personnel contributed to the effort, which was submitted to the Court on 20 June 2011, and the help of the Summer Externs and Student Research Fellows in research and writing over the course of two months' drafting was excellent and invaluable.
The case concerns the scope of the "ministerial exception" in the United States. This First Amendment doctrine has long been recognized to include the freedom of religious organizations "to decide for themselves, free from state interference, matters of church government as well as those of faith and doctrine." Kedroff v. St. Nicholas Cathedral, 344 U.S. 94, 116 (1952). The exception effectively bars most employment-related lawsuits brought against religious organizations by employees performing religious functions.
The question before the Court in the present case concerns whether a teacher at a religious elementary school who teaches the full secular curriculum, but also teaches daily religion classes and regularly leads students in prayer and worship, can be classified as a minister. The federal circuits are in agreement about the core applications of this doctrine to religious officials such as pastors, priests, and rabbis. They are divided, however, over the boundaries of the ministerial exception when it has been applied to other employees.
Decisions, petitions, and additional court documents are available on the SCOTUS blog, here.