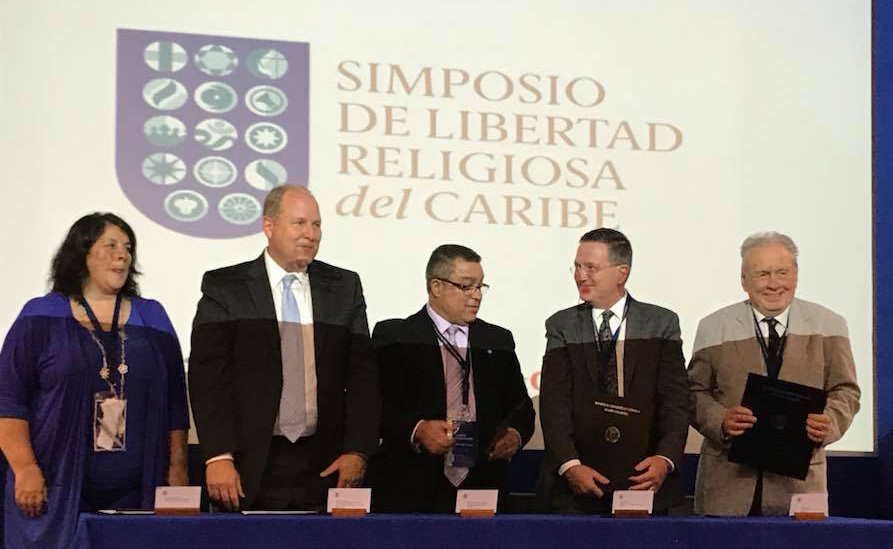 The first Caribbean Religious Freedom Symposium was held in Santo Domingo, Dominican Republic on 15-17 November 2017. The conference was hosted by Pontificia Universidad Católica Madre y Maestra (PUCMM) and sponsored by the International Center for Law and Religion Studies (ICLRS); the Religious Freedom & Business Foundation; Pontificia Universidad Católica Madre y Maestra (PUCMM); Latin American Consortium of Religious Freedom; and the Chamber of Deputies of the Dominican Republic.
The theme of the conference was "Religious Freedom and Economic Development", highlighting the importance of religious freedom as a fundamental right related to freedom of conscience. The ICLRS was represented by Associate Director Gary Doxey, Senior Fellows Scott Isaacson and Denise Lindberg, and Academic Advisory Board Member Juan G Navarro Floria. Also attending were Elder Quentin L. Cook of the Quorum of the Twelve Apostles of The Church of Jesus Christ of Latter-day Saints, and David Armstrong, Church Area Legal Counsel for the Caribbean Area.
Links to video recordings are listed below. Most presentations are in Spanish although there are some in English.
Sesión de apertura (Gary Doxey participating)
Segunda sesión (Gary Doxey and Juan Navarro Floria participating)
Quinta sesión (Scott Isaacson participating)
Lanzamiento (Gary Doxey participating)
Sexta sesión (Elder Quentin L. Cook participating in English, approximately 8:45)
Séptima sesión
Octava sesión (Denise Lindberg, Juan Navarro Floria, and Scott Isaacson participating)
Décima sesión (Gary Doxey participating)