ICLRS at the G20 Interfaith Forum 2018 in Argentina: "Building Consensus for Fair and Sustainable Development: Religious Contributions for a Dignified Future"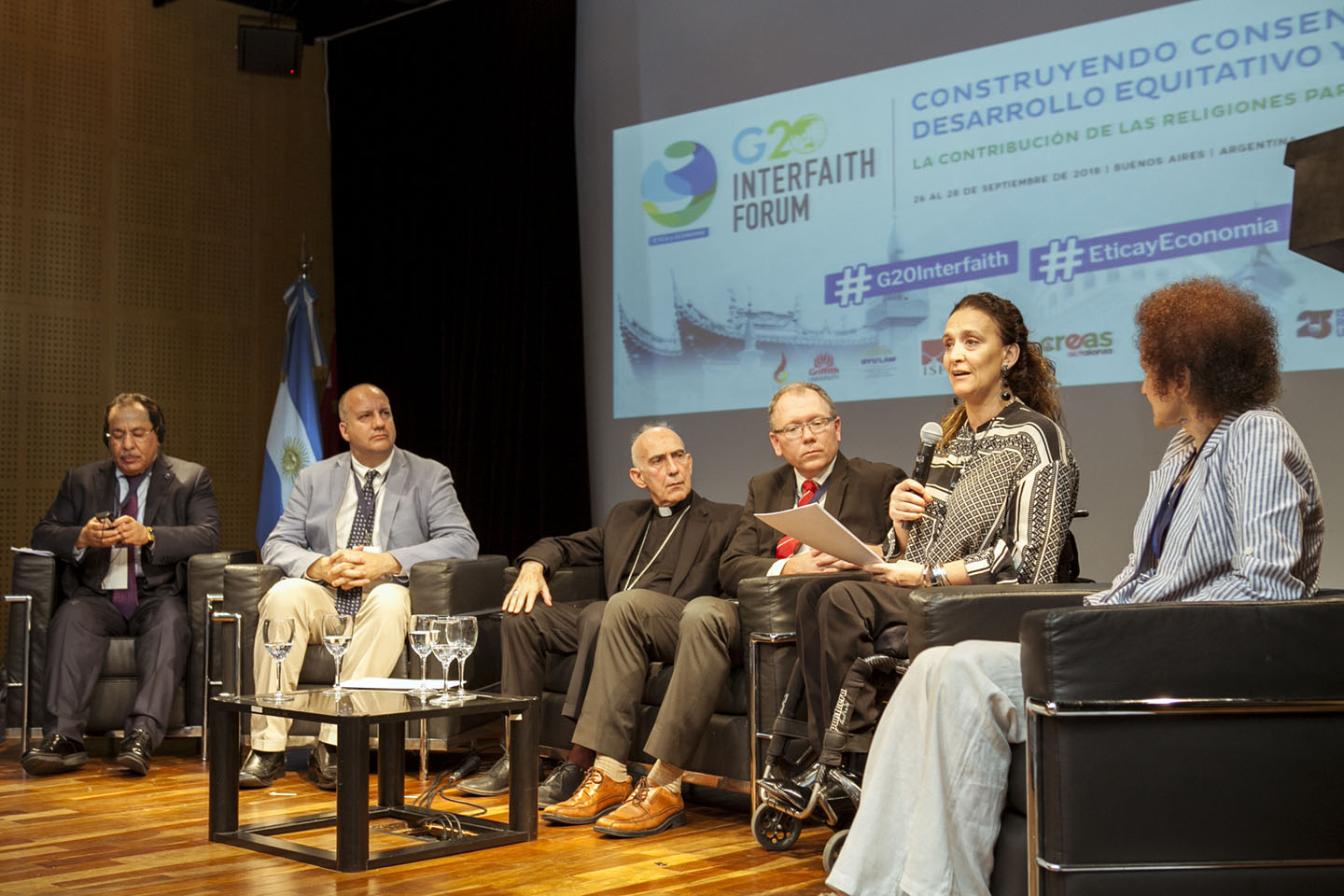 The International Center for Law and Religion Studies (ICLRS) at Brigham Young University Law School was represented at the 2018 G20 Interfaith Forum, held 26-28 September 2018 in Buenos Aires, Argentina, by Center directors, staff, and student fellows, as well as members the Center's International Advisory Council (IAC).
Professor W. Cole Durham, Jr., ICLRS Founding Director and a member of the G20 Interfaith Forum's Organizing Committee, played a key role in developing and organizing the program for the entire event, where he moderated and spoke in sessions, including leading the concluding session. Professor Durham was accompanied in Buenos Aires by Professor Gary Doxey, ICLRS Associate Director and Regional Advisor for Latin America; ICLRS Publications Director, Donlu Thayer and Communications Specialist, Blythe Shupe; IAC Chair and BYU Law School student coach David Colton; and IAC Members David & Tiffany Nearon and Jeff & Michelle Robinson. BYU Law Students Athelia Graham and Justin Miller (and his wife, Megan) provided invaluable assistance in logistics and interpretation at the event, as did Kaitlyn Pieper, who joined the BYU team. Also from BYU were media team Adam Durfee, Instructor in Communications, with students Zach Olsen and Chaz Gonzales.
The overarching theme for this year's G20 Interfaith Forum was "Building Consensus for Fair and Sustainable Development: Religious Contributions for a Dignified Future." The Forum included three days of presentations, panel discussions, and working group sessions aimed at building networks and developing concrete policy recommendations on subthemes including Inequality, Religion, and the Future of Work; Religion, Environmental Change, and a Sustainable Food Future; Religion, Urgent Global Priorities, and the G20 Agenda; and Religion, Good Governance and Sustainable Development.
This was the fifth annual event in a series of G20 Interfaith Forums held in relation to the meetings of the international "Group of Twenty" (G20) Economic Summit. Previous Interfaith Forums have been held in Gold Coast, Australia (2014); Istanbul, Turkey (2015); Beijing, China (2016); and Potsdam, Germany (2017). The 2018 Interfaith Forum was held in anticipation og the with the thirteenth G20 Summit, which takes place in Buenos Aires 30 November – 1 December 2018. (Summary videos and programs of previous events can be viewed here.)
The annual G20 Interfaith Forum creates a network of networks, bringing opinion leaders such as political leaders, academics, lawyers, and civil society leaders together with faith and interfaith leaders from around the world for three days of discussion and dialogue that highlight the role that religion can play in promoting the goals of successive G20 Economic Summits. The Forum helps identify and showcase the policy and societal contributions of faith traditions and philosophies on forefront global issues, while creating opportunities for communication and relationship building, and raising the profile of participating communities, groups, and organizations.
The aim is to draw on interfaith insight and experience to develop recommendations regarding priorities that the Argentine government has identified for this year's G20 Summit as well as the broader objectives of future G20 Summits. More generally, the objective is to find ways for different groups to work together to strengthen human development understood in the broadest sense, among other things through promoting the United Nation's Sustainable Development Goals. The hope is that dialogue and networking facilitated by the Forum will raise the level and effectiveness of religious input on major global policy issues.