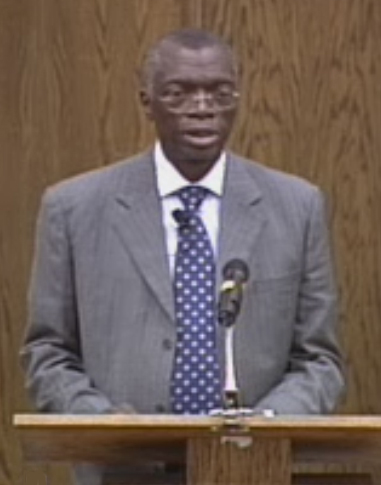 The Center was honored to receive the Hon. Pius Nkonzo Langa, Chief Justice of the South African Constitutional Court, as a keynote speaker at the Opening Session of the 16th Annual Law and Religion Symposium held at Brigham Young University on 4 October 2009. The address, which was streamed live through ICLRS website, is available for viewing here.
In October 1994, Pius Langa was one of 11 judges appointed by Nelson Mandela to the new post-apartheid Constitutional Court of South Africa. He became Deputy President of the Court in 1997, Deputy Chief Justice in 2001, and in June 2005 he was appointed South Africa's Chief Justice and head of the Constitutional Court. A lifelong guide to youth and champion of the cause of the underprivileged, Justice Langa has received much recognition and numerous awards for his work in advancing justice and human rights, culminating in the bestowal, on 22 April 2008, of the Order of the Supreme Counsellor of the Baobab: Gold.
Pius Langa began his education in private high school study and took bachelor's and law degrees by long-distance learning. He began his working life in a shirt factory and later worked as an interpreter and messenger for the Department of Justice. He has now received honorary doctorate degrees from the Universities of Zululand, Western Cape, Cape Town, Unisa, Rhodes, the National University of Ireland, Yale, and Northeastern University, Boston. He served as distinguished visiting professor at Southern Methodist University in Dallas, and as Chancellor of the University of Natal. Throughout his life, he has participated in countless ceremonies, conferences, workshops, seminars, and delegations, has served on countless trusts, boards, councils, and committees. He played important roles in democracy and constitutional projects in Lesotho, Fiji, Sri Lanka, Zimbabwe, Rwanda, Tanzania, Cameroon, and Bangalore. The Center is indeed grateful that Justice Langa was able to travel to Provo to participate in the 2009 International Law and Religion Symposium.