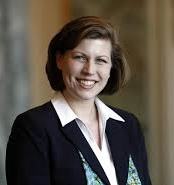 BYU Law School alumnus Hannah Clayson Smith delivered the 2013 Honored Alumni Lecture – titled "Religious Freedom: Preserving the First Freedom"– on Thursday, August 29 at 1 p.m. at Brigham Young University's J. Reuben Clark Law School.
Hannah graduated from the J. Reuben Clark Law School in 2001 with honors, having served as executive editor of the BYU Law Review. During law school, she also served as a research assistant for the BYU International Center for Law and Religion Studies and as president of the BYU Federalist Society.
Hannah filled two clerkships at the U.S. Supreme Court, for Justices Clarence Thomas and Samuel A. Alito, Jr. In her advocacy of religious liberty cases at the trial, appellate, and U.S. Supreme Court levels, Hannah has been featured on Fox News, "The O'Reilly Factor," "The Sean Hannity Show," C-Span, the Wall Street Journal, the Washington Post, the Los Angeles Times, U.S. News and World Report, the Associated Press, National Review Online, the Laura Ingraham Show, the Rush Limbaugh Show, National Public Radio, and many other publications and radio shows.
Following law school and in between clerkships, she was an associate in private practice at national law firms in Washington D.C., representing clients before state and federal courts and the U.S. Supreme Court in civil, criminal, and constitutional cases. She joined The Becket Fund for Religious Liberty senior counsel in 2007.
Hannah served as a full-time volunteer missionary for The Church of Jesus Christ of Latter-day Saints in France and Switzerland. She currently serves as a member of the J. Reuben Clark Law Society International Board and as a member of the Deseret News Editorial Advisory Board in Salt Lake City, Utah. She writes a regular column on religious liberty issues in the Deseret News. She is married to John Smith, her classmate both during undergraduate days at Princeton and in law school at BYU. John had met Cole Durham, Director of the BYU's International Center for Law and Religion Studies, while on his LDS mission in Kjiv, Ukraine, who became mentor for both John and Hannah at BYU.
"They are really just a remarkable couple," Durham said about Hannah and John in a Deseret News article in 2010. "There are not a lot of students who make lasting impacts on a law school, but some things that they did continue to this day." They organized, for example, the law school's monthly spiritual devotional, "Spirit of the Law", and Hannah also built much of the organizational structure for the law school's annual International Law and Religion Symposium.
Hannah and John live in Dallas, Texas, with their three children.