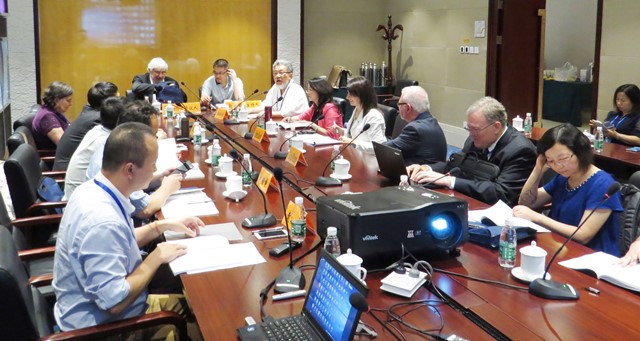 Hosted by the Chinese Academy of Social Sciences, and jointly sponsored by the Institute of World Religions and the International Center for Law and Religion Studies at Brigham Young University, a unique event took place in Beijing, China, 30 August – 1 September 2016, simultaneously with the meeting of world leaders for the G20 Economic Summit in Hangzhou. Chinese scholars joined with other international experts to discuss the topic "Dialogue among Civilizations and Community of Common Destiny for All Mankind".
International experts participating in the event included Paul Babie and Carolyn Evans (Australia), Elizabeta Kitanović (working in Belgium), Rodrigo Vitorino Souza Alves (Brazil), James Christie and Karen Hamilton (Canada), Katayoun Alidadi (working in Germany), Tahir Mahmood and Faizan Mustafa (India), Asher Maoz (Israel), Marco Ventura (Italy), Rt. Rev. Yoshinobu Miyake (Japan), Liviu Olteanu (Switzerland), Recep Şentürk (Turkey), Frederick W Axelgard, Ram Cnaan, Ganoune Diop, Cole Durham, Katherine Marshall, Brett Scharffs, and Sherrie Steiner (United States).
Please see reports of the event below:
From Bettina Krause (Adventist News Network): "As the world's political leaders gathered [in September 2016] for the G20 Economic Summit in Hangzhou, China, an international group of religious scholars met in Beijing to consider how religion can help foster international dialogue and problem-solving. / Ganoune Diop, director of public affairs and religious liberty for the Seventh-day Adventist Church, was invited to address the group of some 40 scholars and religious leaders. He told the group that before talking about our differences, we must first recognize shared human values.
From Katherine Marshall (Berkley Center for Religion, Peace & World Affairs, Georgetown University): "Echoing the title, the overall line of argument was that common values trump real divides linked to culture or religion. There were many papers exploring scholarship about religious traditions that have shaped China, touching more on "harmony" than on tensions. / Lively exchanges and some fairly blunt discussions turned about a central topic: Internet and religion. How, some asked, is the Internet really changing transmission and practice of religious beliefs and adherence, and how can and should the negative features of the Internet and the Internet age be governed? How and how far to control is plainly an issue. It was largely in this connection that the issues around radical religion and violence were touched upon."