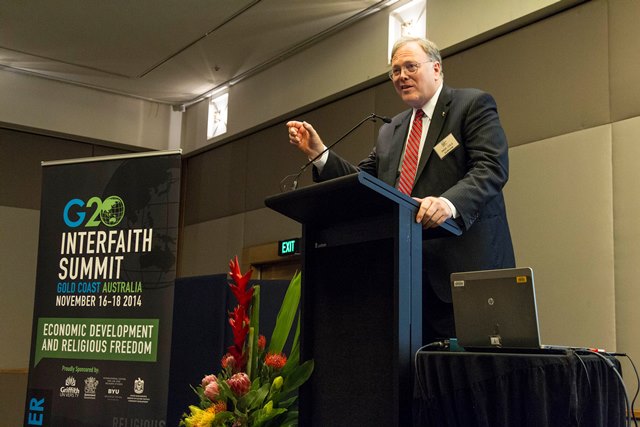 G20 Interfaith Forum: "Economic Development and Religious Freedom," November 16-18, 2014, Gold Coast, Australia
The First G20 Interfaith Forum brought scholars, lawyers, political office holders, and other opinion leaders together with faith and interfaith leaders from around the world for three days of discussion and dialogue as a substantial contribution to the G20 Economic Summit. This was the first of a major series of annual conferences in which the Center is engaged with other major partners in G20 side events. Given the number of attendees, this conference was almost double the size of the Center's annual International Symposium in Provo.
The conference showcased the scholarly and societal contributions of various faith traditions and philosophies from around the world. This conference also created opportunities for communication and relationship building and raised the profile of participating communities, groups and organizations. Cole Durham was a moderator for one of the conference panels and, in another, made a presentation titled "Religious Rights and Economic Development: International Perspectives." Conference panels focused on religious freedom's impact on a society's economy, humanitarian aid, social cohesion and charitable giving, among other things. This conference was extraordinarily successful with more than 150 delegates participating from countries in the Pacific region, Asia, the Middle East, South America, and Europe.
See links, below, to Conference materials and coverage from the website of the Centre for Interfaith & Cultural Dialogue, Griffith University (Australia).