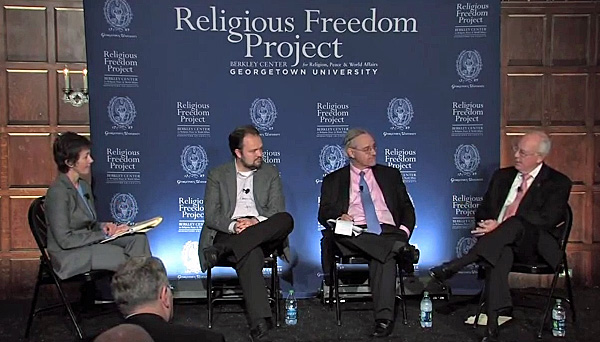 The International Center for Law and Religion Studies co-sponsored Day Two of the conference "Freedom to Flourish: Is Religious Freedom Necessary for Peace, Prosperity, and Democracy?" held 10 October 2013 at the Berkeley Center for Religion, Peace & World Affairs at Georgetown University in Washington, D.C.
A Keynote Conversation: Whither the First Freedom? Debating the Current State and Possible Future of Religious Liberty in America, moderated by journalist Jane Little, feature prominent panelists E.J. Dionne of the Washington Post, Ross Douthat of the New York Times, and Ken Starr, President of Baylor University.
Other discussions at the event focused on the three questions: Does Religious Freedom Undermine Terrorism and Conflict and Foster Secure Societies? Does Religious Freedom Promote Economic Freedom and Prosperity Everywhere? What is the Evidence that Religious Freedom is Necessary for the Political Success of Free Societies?
Panelists and moderators included Thomas Farr, William Inboden, Timothy Shaw, and Daniel Philpott of the Berkley Center's Religious Freedom Project; Brian Grim, Pew Forum on Religion and Public Life; Will Inboden, University of Texas at Austin; John Owen, University of Virginia; Tamara Wittes, Brookings Institution; Ilan Alon, Rollins College; Timur Kuran, Duke University; Ian Linden, Tony Blair Faith Foundation; Rebecca Shah, Berkley Center; Tony Gill, University of Washington; Daniel Philpott, Religious Freedom Project; Nukhet Sandal, Ohio University; Ani Sarkissian, Michigan State University; Tony Gill, University of Washington; Nukhet Sandal, Ohio University; and Ani Sarkissian, Michigan State University.
The Center was represented at the event by Director W. Cole Durham, Jr., and Managing Director Robert T. Smith.