First-Ever Training Program on Religion and the Rule of Law, August 2010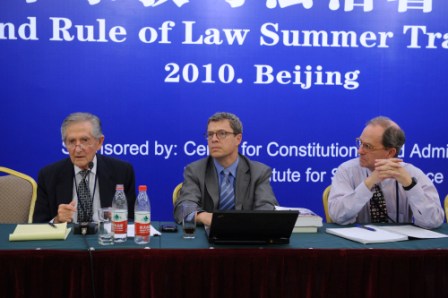 The first-ever Training Program on Religion and the Rule of Law in China was held 3-22 August 2010 at Peking University in Beijing. A dozen foreign scholars were invited by Peking University to participate in the program, which was sponsored by the Center for Constitutional and Administrative Law at Peking University, under the direction of Professor Zhang Qianfan, and the Pu Shi Institute for Social Sciences, whose director Liu Peng is one of China's leading experts on religion in America. The program brought more than sixty Chinese scholars from around the country to Beijing for an intensive course on comparative and international law and religion topics. Those attending were primarily Chinese university professors, including professors of law, religion, and politics, government officials, religious leaders, graduate students working on their doctorates, and judges. The goal of the program was to provide a wide-ranging introduction to topics relating to religion and the rule of law from an international and comparative law perspective. Participants included students from most of the provinces of China.
The curriculum for the program was largely based upon the recently published casebook Law and Religion: National, International and Comparative Perspectives by Professors W. Cole Durham, Jr. and Brett G. Scharffs, Director and Associate Director of the International Center for Law and Religion Studies at Brigham Young University. The entire casebook was translated into Chinese by the program organizers, and the International Center for Law and Religion Studies helped coordinate the academic component of the program.
In addition to Durham and Scharffs, foreign trainers included Lisbet Christofferson, law professor at the University of Roskilde in Copenhagen; Silvio Ferrari, Professor of Law at the University of Milan; Brian Grim, a senior researcher at the Pew Research Center's Forum on Religion and Public Life; Jeremy Gunn, formerly Director of the American Civil Liberties Union Program on Freedom of Religion or Belief and currently a law professor in Morocco; James Murphy, Associate Dean and Professor at Regent Law School; Gerhard Robbers, the Chair for Public Law at the University of Trier in Germany; Jay Sekulow, Chief Counsel for the American Center for Law and Justice; Rik Torfs, a Professor of Canon law and a Senator from Belgium; Johan van der Vyver, a Professor of Human Rights at Emory Law School, who is from South Africa and teaches there as well; and J. Clifford Wallace, Senior Ninth Circuit Judge and former Chief Judge of the Ninth Circuit U.S. Court of Appeals.
The intensive training program met each day from nine to five, with four lectures each day and additional sessions set aside for discussion, questions and answers. The program was taught in both English and Chinese with concurrent translation. Professor Scharffs said that "the level of engagement and the quality and depth of the students' questions was very high. What I saw over my three weeks participating in the program convinces me that Chinese scholars are beginning to study and understand religion and the rule of law in a way that is very similar to their engagement with economic development issues thirty years ago."
Professor Durham observed that the program was notable for its engagement with the question of how religion can be a mechanism for achieving social harmony, rather than something that is viewed as inimical to achieving harmony. In a plenary address, Professor Durham noted, "While trying to require everyone to play the same instrument or the same note may decrease dissonance, it is not the way to generate harmony."
At the end of the training program, there was a related academic conference at Peking University on Religious Freedom and Ethnic Harmony. In addition to a large number of Chinese scholars, this conference included Professors Durham and Scharffs, as well as Dieter Grimm, a former member of the German Constitutional Court; Sophie van Bijsterveld, a law professor and Senator from the Netherlands; and Jeremy Webber, a law professor from Canada, as well as a number of the foreign experts who participated in the training program.