First Certificate Training in Myanmar: Religion and the Rule of Law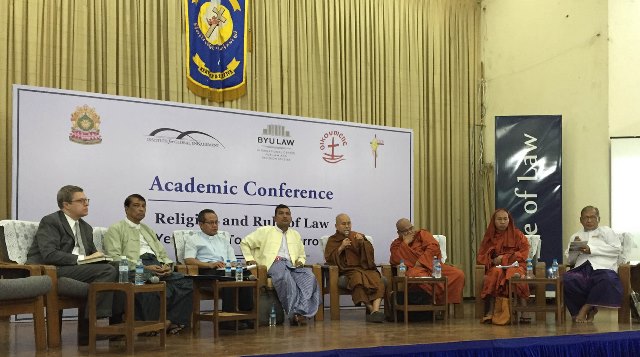 From 30 November to 9 December, 2015, Professors W. Cole Durham and Brett G. Scharffs, Director and Associate Director of the International Center for Law and Religion Studies, participated in a Religion and Rule of Law Certificate Training Program in Myanmar. The 10-day event was sponsored by the Institute for Global Engagement, Brigham Young University, the Venerable Sitagu Sayadaw, The Catholic Bishops Conference of Myanmar, and the Myanmar Council of Churches. This was believed to be the first event of its kind to be held in Myanmar. Participants included leaders from each of the country's major religious communities.
The theme of the conference was Religion, Rule of Law, and Security. Participants examined the connection between religion and the rule of law, and international human rights in relation to religion. There was also opportunity for interfaith discussion. On the heels of the recent elections removing the militarily backed party from power, there was also much discussion on what is to come. During the conference, Professor Durham met with U Nyan Win, National League for Democracy legal advisor and spokesman, to discuss Myanmar's future.
Channel NewsAsia Media Coverage
Institute for Global Engagement Coverage