Fellowship Helps BYU Law Student Prepare for Work After Graduation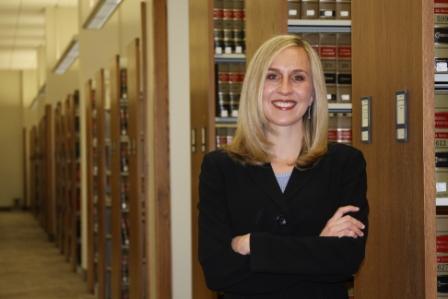 [From the website of the J. Reuben Clark Law School, 11 July 2011]
Elsa Jacobsen is one of ten law students and recent graduates who contributed research to a Supreme Court amicus brief for Hosanna-Tabor Evangelical Church and School v. EEOC. Jacobsen gained valuable experience in research throughout her education at BYU Law—from her legal research and writing class to a Law and Religion Fellowship with the Office of General Counsel of The Church of Jesus Christ of Latter-day Saints.
Jacobsen cites her fellowship – offered through BYU's International Center for Law and Religion Studies – as an important experience in her legal education. Serving in Salt Lake City with the General Counsel of the Church, Jacobsen had the opportunity to research international law while writing about legal issues with which she was not previous familiar.
"One of the things I learned is that researching is not an exact science," Jacobsen said. "The research process might not go smoothly or quickly or progress in a linear fashion. That was a revelation of sorts, so serving the fellowship taught me to be even more persistent and resourceful."
Before coming to law school, Jacobsen worked with the Congressional Human Rights Caucus through a fellowship with the late Congressman Tom Lantos (D-CA). Consequently, her interest was piqued when she learned of the opportunity to explore issues of individual liberty with the International Center for Law and Religion Studies. Jacobsen's interest and experience increased with her fellowship, and this past February she represented BYU Law as an oral advocate at the National Religious Freedom Moot Court Competition in Washington, DC.
"Choose [summer experiences] in areas where you have genuine interest," Jacobsen said. "You'll be more motivated to learn, to cultivate mentoring relationships, and to build on the experience in future work."
Jacobsen's research for the Supreme Court amicus brief dealt with the "ministerial exception," a First Amendment doctrine that bars most employment-related lawsuits brought against religious organizations by employees performing religious functions.