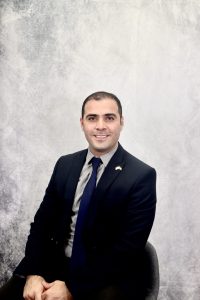 Judge Eyad Alsamhan is one of the youngest judges in the history of Jordan. Born in Blue City [Zarqa], Jordan, Judge Alsamhan was inspired by his father's and mother's roles in reshaping the legislative scene in Jordan. From their influences, he took an interest in law at an early age and later specialized in general civil jurisdiction. He also has experience deciding and mediating complex, high-stakes cases. In addition to his expertise in law, Judge Alsamhan also generates Artificial intelligence with applications in judiciary settings.
Judge Alsamhan enjoyed sponsorship by the Jordanian Royal Majesty in a program to qualify judges from the bachelor's level (the Future Judges program). During his first master's degree in Intellectual property law at University of Jordan, he received a student exchange grant from the European Union for a master's degree in Intellectual property law to study at Adam Mickiewicz University in Poland. As the judge is fluent in many languages including Arabic, English, French, with high proficiency in Japanese and Polish, he has participated in several international conferences in Jordan, Turkey, London, Germany, Poland, Hungary and the Maldives. He has International experience researching and applying cutting edge issues in rule of law, which he has published in 13 articles, found in a number of scientific journals. He also contributed a textbook chapter in constitutional law, as well as a book relating to judiciary ethics. The young judge had the opportunity to exchange legal experiences with international organizations, the most recent of which was the Max Planck Foundation for International Peace and the Rule of Law. Finally, the Jordanian Judicial Council hired Mr. Alsamhan to contribute to the justice facility's service in the Hashemite Kingdom of Jordan in response to the royal directives in supplying the justice facility with scientifically and practically qualified judges at their highest levels.
Now, Judge Alsamhan is a LLM student at Brigham Young University in the USA.