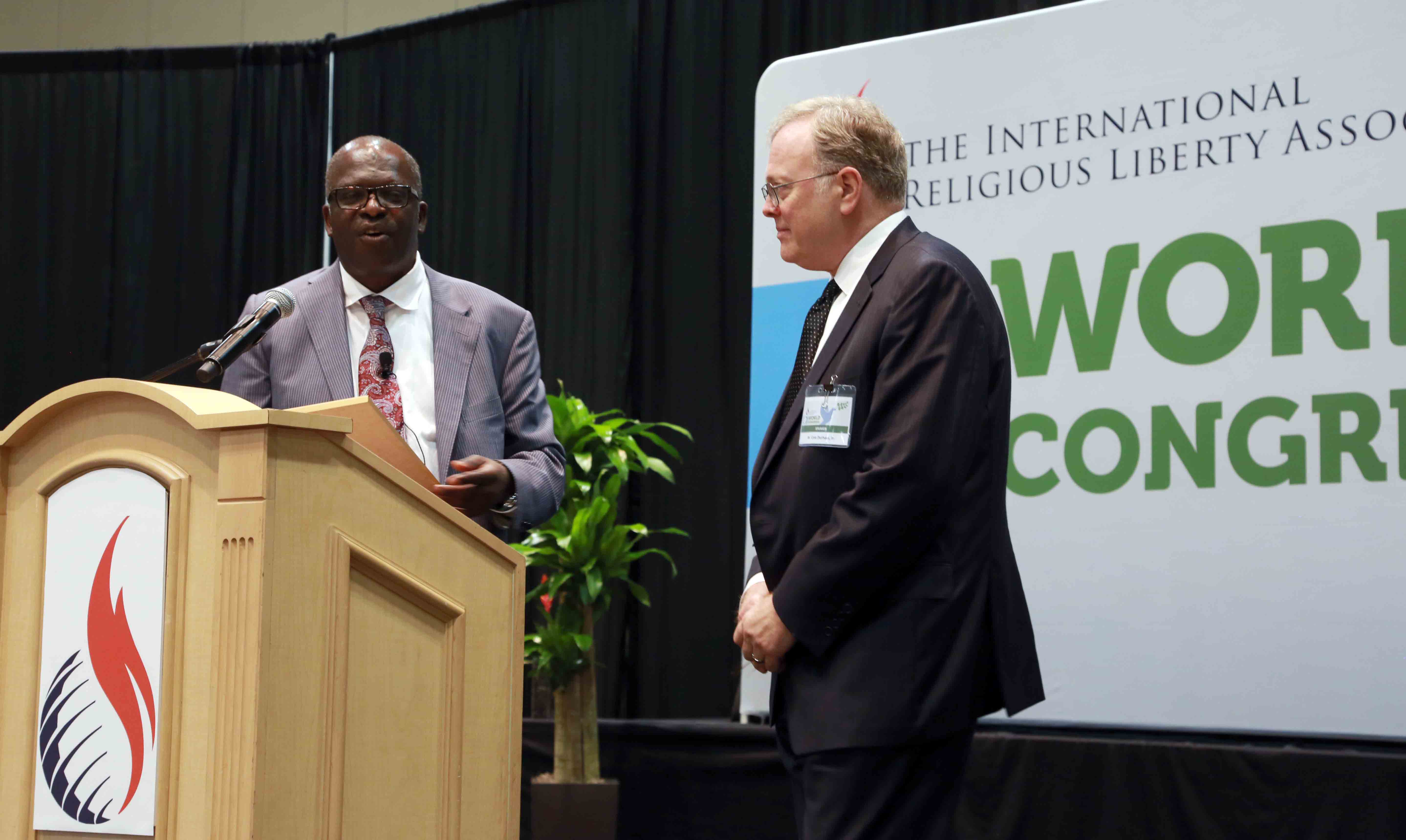 Brett Scharffs and Cole Durham, Director and Founding Director of the International Center for Law and Religion Studies, were among the distinguished plenary speakers at the 8th World Congress for Religious Freedom, sponsored by the International Religious Liberty Association (IRLA), held 22-24 August 2017 in Ft. Lauderdale, Florida. During the event, Professor Durham, "prolific author, editor, and international scholar" who is one of IRLA's Advisory Directors and a member of its Panel of Experts, was presented with the International Religious Liberty Award of Honor for Global Impact in Promoting Constitutional Law, Human Rights, and Religious Freedom.
Other honorees at the Congress included Robert Seiple, the first Ambassador-at-Large for International Religious Freedom at the Department of State from 1998-2000, a former president of World Vision, and a former president of IRLA, who received the IRLA Award of Distinction; Karnik Doukmetzian, head of the Office of General Counsel at the Seventh-day Adventist World headquarters; and Knox Thames, Special Advisor for Religious Minorities in the Near East and South/Central Asia at the United States State Department in Washington, D.C.
The World Congress is a gathering of hundreds of academics, religious freedom advocates, public officials, attorneys, and religious leaders from around the globe. The line-up of plenary speakers for the 2017 conference together represented an extraordinary breadth of experience and expertise in the field of religious freedom and peace-making. These internationally renowned scholars, public officials, religious leaders, and advocates came from a broad range of faith traditions and represented some 20 different nationalities.
The IRLA is the world's oldest religious freedom association. Dr. Ganoune Diop of Senegal is current Secretary General, and Ambassador John R. Nay, former US Ambassador to Suriname is current IRLA President.
For more than 120 years the IRLA has worked to promote freedom of conscience for every person, no matter who they are or where they live. Originally organized by the Seventh-day Adventist Church, the IRLA's purpose is the universal and non-sectarian promotion of religious freedom for all people, everywhere.
Chartered in 1893, the IRLA
Has thirteen regional chapters that cover the globe. It has national associations in 80 countries—including Kazakhstan, Azerbaijan, and Russia—and correspondents in 172 countries.
Promotes the freedom to believe, or not to believe, as defined by Article 18 of the Universal Declaration of Human Rights. We believe religious freedom is a foundational human right, which is intimately connected with all other human rights.
Believes that the freedom to believe, or not to believe, is not a favor that governments can bestow. It is a universal, God-given freedom that flows from the innate dignity of every human being.
Is represented at the United Nations in New York and Geneva and takes part in the Human Rights Council meetings each year.
Hold symposiums, conferences, and events around the world focused on the scholarly community, the religious freedom advocacy community, religious leaders of many different faiths, and those who hold public office.
Sponsors large-scale popular events around the world, such as Religious Freedom Festivals and other rallies. Through these, we aim to raise public awareness of religious freedom issues.
Publishes a journal, Fides et Libertas, which presents scholarly articles on religious liberty from experts around the globe.
Is invited every year to give lectures at universities and churches, to write articles, and to give interviews on radio and television.
Broadcasts a television program called Global Faith and Freedom.