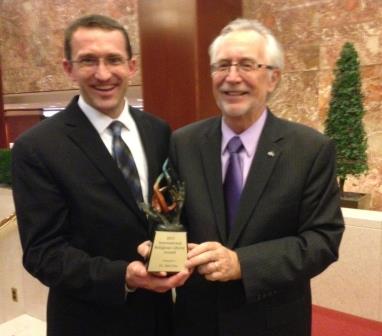 The International Center for Law and Religion Studies and the J. Reuben Clark Law Society were honored to present to Dr. John Graz, Secretary-General of the International Religious Liberty Association (IRLA), the 2013 Religious Liberty Award. The award was presented at an Awards Dinner held October 10, 2013 in Washington, D.C. Those in attendance were also privileged to hear remarks from former senator Gordon Smith, who spoke on the unique link between American history and religious freedom.
Also honored at the dinner were the winners of the 2013 Religious Liberty Essay Contest. Eric Baxter, Chair of the D.C. Mid-Atlantic Chapter for the J. Reuben Clark Law Society presented awards to James Cleith Phillips, Ethan Blevins, Landes Taylor, and Spencer R. Nelson for their essays treating aspects of religious freedom in law, jurisprudence, and legal scholarship.
The Religious Liberty Award is given annually in recognition of outstanding contributions to the promotion and preservation of religious freedom. Previous recipients have been Douglas Laycock, Kevin J. "Seamus" Hasson, and Senator Joseph Lieberman.
The award to Dr. Graz was presented by Dean James R. Rasband of the J. Reuben Clark Law School. Giving tribute to Dr. Graz were Professor Cole Durham of BYU and Dr. David Little, Professor Emeritus of the Practice in Religion, Ethnicity, and International Conflict at Harvard Divinity School and an Associate at the Weatherhead Center for International Affairs at Harvard University. Both Professor Durham and Professof Little have been associated with Dr. Graz for many years as regular contributors to the annual IRLA Meeting of Experts, which promotes religious liberty in academic circles and settings. In his tribute, Dr. Little highlighted John Graz's determination and infatigable dedication to the cause of religious liberty and commended him specially for his contributions to organizing congresses, symposiums, lectures, and workshops for the promotion and protection of religious liberty for everyone, in all places: "We are all deeply in his debt."
In his response, Dr Graz thanked his team at IRLA and his associates worldwide for their contributions to the cause of religious freedom: "In receiving this great honor, I feel I represent them and this award is given to all of them."
John Graz has been involved in promoting and defending religious freedom and participating in interfaith relations since he was university student. He studied theology, history, and sociology of religion in France, obtaining his Master's Degree at the University of Montpellier and his Doctorate from the Sorbonne University in Paris. Dr. Graz is a citizen of both Switzerland and France, and he grew up in a family that accepted religious diversity. All of his mother's brothers and sisters joined the Allies during World War II, and his grandfather died in the Dachau concentration camp for having helped Jews and the French Resistance.
On December 15, 2004, by a decree signed by the Romanian President Ion Iliescu, John Graz was granted the high distinction of the National Medal "For Merit" with the rank of Commander. And on January 13, 2011, Dr. Graz received the National First Freedom Award from the First Freedom Center in Richmond, Virginia.
John Graz has worked as a pastor and church communication director, has produced radio and television programs, and has written several books which have been translated into more than ten languages. In July 1995, he was elected director of the Department of Public Affairs and Religious Liberty for the General Conference of the Seventh-day Adventist Church and he has served as United Nations liaison. In 1995 he also became Secretary General of the International Religious Liberty Association (IRLA). In 2002 he was elected Secretary of the Conference of Secretaries of the Christian World Communions, a group of world church leaders which represents two billion Christians. He continues in each of these positions
Dr. John Graz has traveled in nearly 100 countries in the promotion and defense of religious freedom for all. He has organized four world congresses on religious freedom and initiated more than 40 international congresses and symposiums on five continents. Dr. Graz originated Festivals of Religious Freedom—the largest gatherings of religious freedom ever organized. Festivals have been held around the world and some of them have filled stadiums with more the 40,000 people. Dr. Graz is also the executive producer of the TV show Global Faith & Freedom.
Dr. Graz is married to Medina, and they have three sons and three, soon to be four, grandchildren.
The Religious Liberty Award Dinner was made possible in part by the Sterling and Eleanor Colton Chair in Law and Religion and the Host Committee.