Dennis & Joni Kay Neuenschwander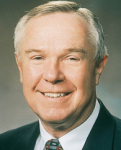 Dennis Neuenschwander is an Emeritus General Authority for the Church of Jesus Christ of Latter-day Saints, and and also served as area president in the Europe and Europe East Areas for the Church. He earned degrees from Weber State University and Brigham Young University. In 1974 he earned a Ph.D. in eastern European languages from Syracuse University. Dennis taught Russian language classes at BYU and the University of Utah, and worked for the LDS Church's genealogical department. He was born in Salt Lake City, Utah.
Joni Neuenschwander served with her husband as missionaries for the LDS Church in the Europe East Area. They also served eight months in Istanbul.