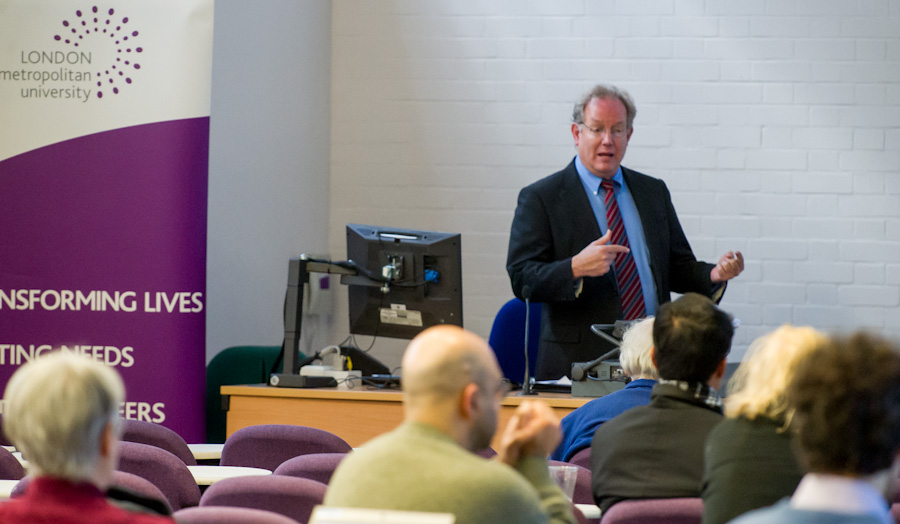 Professor David Kirkham, Senior Fellow for Comparative Law and International Policy, International Center for Law and Religion Studies, J. Reuben Clark Law School, Brigham Young University, delivered the keynote address at the conference "Religion, Democracy and Law", held 15-16 January 2014 at London Metropolitan University, United Kingdom. The title of Professor Kirkham's address was 'Democracy and Religion: Happily Married or Destined for Divorce?'
Welcoming remarks at the event were given by Professor Tina Beattie, Professor of Catholic Studies, Roehampton University, UK, with an introduction to the conference theme by Professor Jeffrey Haynes, Centre for the Study of Religion, Conflict and Cooperation, London Metropolitan University.
Additional keynote addresses were given by Professor Sharyl Cross (Distinguished Professor and director of Kozmetsky, Center of Excellence (Global Studies), St. Edward's University, USA); Professor Grace Davie (Professor of Sociology, University of Exeter, UK); and Professor Ernesto Laclau (Emeritus Professor of Government, University of Essex, UK). The keynotes served to introduce panel discussions:
1. Religion and Legal Boundaries in Islamic Contexts
2-3. Public Debates on Religious/Ethical Issues in Western Europe (1 & 2)
4. The Future of the European Union and Religion
5. Political Theology: A Sign of The Times in Periods of Institutional Crisis
6. Religious Dissent in the Global Political Economy
7. Religious conservatism versus universal human rights?: The struggle for LGBTI rights in Africa
8. Representing Non-Religion
9. Religious Communities and Egalitarianism
10. Individual Attitudes towards Religion and Politics
Panel participants included Carimo Mohomed (New University of Lisbon); Alberta Giorgi (Centro de Estudos Sociais, University of Coimbra); Stephen Hunt (University of West of England); Luca Ozzano (University of Turin); Jolanda van der Noll (Université catholique de Louvain); Miro Jevtic (University of Belgrade); Emilce Cuda (Pontificia Universidad Católica Argentina); Martin Ridley (London Metropolitan University); Alistair Stewart (Kaleidoscope Trust); Chrissy Hunter (Faculty of Social Sciences and Humanities, London Metropolitan University); Steve Kettell (Warwick University); and Yohai Hakak (Portsmouth University).
The aim of the conference was to highlight and examine a number of important current controversies about the relationship between religion, democracy and the law, an issue of relevance in many countries and regions around the world. The purpose was both to look at topical issues, as well as to examine long-running controversies. The context was that, around the world, each region has its own controversies in relation to religion, democracy and law. Overall, the issues examined were not only reflective of current controversies but also fundamental in both existing and aspiring democracies to wider issues which collectively focus on religion, democracy, and law.
The background for the discussion was that Article 19 of the United Nations declaration of human rights, now over 60 years old, proclaims that 'everyone has the right to freedom of opinion and expression.' Yet, in practice around the world there are numerous legal qualifications on this apparently universal 'right' balanced by the necessary tolerance and respect for the equal dignity of all human beings that necessarily constitute the foundations of all democratic, pluralistic societies. Consequently, it may be necessary 'even' in democratic societies to sanction or even prevent forms of expression which spread, incite or otherwise justify hatred based on (religious) intolerance. For example, France outlaws holocaust denial and 'public insults' based on religion, while various European countries, despite many being highly secular polities, have blasphemy laws which are sometimes enforced.