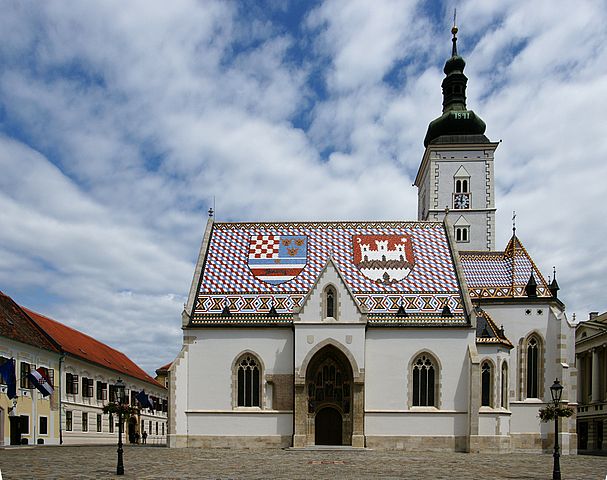 Religion in Croatia
Freedom of religion is a right defined by the Constitution of Croatia, which also defines all religious communities as equal before the law and separate from the state. A large majority of the Croatian population declares themselves as religious believers. The vast majority of the population is Roman Catholic. The most notable other Christian denomination is Serbian Orthodoxy, there are around 1% of Muslims, and all others are under 1%. Around 5 percent of the population register as atheists.
The statistics regarding religious affiliation correlate closely with the country's ethnic makeup. The Serbian Orthodox, predominantly ethnic Serbs associated with the SPC, live primarily in cities and areas bordering on Bosnia and Herzegovina, Serbia, and Montenegro. Most members of other minority religious groups reside in urban areas.
Protestants from a number of denominations and foreign clergy actively practice and proselytize, as do representatives of Asian religious groups. A variety of missionaries are present.
According to the 2001 census the majority of Croatians (87.83%) belong to the Roman Catholic Church. Orthodox Christians make up 4.42 percent of the population, Muslims 1.28 percent, and Protestants 0.41 percent of the population. 5.21% of Croatians are non-believers or agnostics. In the Eurostat Eurobarometer Poll of 2005, 67% of the population of Croatia responded that "they believe there is a God". In a 2009 Gallup poll, 70% answered yes to the question "Is religion an important part of your daily life?"
Public schools allow religious teaching in cooperation with religious communities having agreements with the state, but attendance is not mandated. Religion classes (Croatian: vjeronauk) are organized widely in public elementary and secondary schools, most commonly coordinated with the Catholic Church.
The public holidays in Croatia also include the religious festivals (Croatian: blagdan) of Epiphany, Easter Monday, Corpus Christi Day, Assumption Day, All Saints' Day, Christmas, and St. Stephen's or Boxing Day. The primary holidays are based on the Catholic liturgical year, but other believers are legally allowed to celebrate other major religious holidays.
Marriages conducted by the religious communities having agreements with the state are officially recognized, eliminating the need to register the marriages in the civil registry office.
The Roman Catholic Church in Croatia receives state financial support and other benefits established in concordats between the Government and the Vatican. The concordats and other government agreements with non-Roman Catholic religious communities allow state financing for some salaries and pensions for religious officials through government-managed pension and health funds.
The concordats and agreements also regulate public school catechisms and military chaplains. In line with the concordats signed with the Roman Catholic Church and in an effort to further define their rights and privileges within a legal framework, the government has additional agreements with the 14 religious communities.