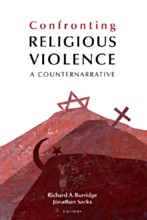 Confronting Religious Violence: A Counternarrative
Edited by Richard A. Burridge and Jontathan Sacks with Megan Warner
Baylor University Press 2018
Sunni and Shia in Iran, Iraq, or Syria. Protestants and Catholics in Northern Ireland. Afrikaners and black churches in South Africa. The rising tide of anti-Semitism and Islamophobia across Europe. Israelis and Palestinians in the Holy Land. The fear of immigrants and those who are different. The surge of nationalism. Violence, religious violence, violence done in the name of religion.
Religious violence must be understood—its history, its relationship to sacred texts and communities, and its consequences. Religious violence must also be confronted. Another story must be told, a different story, a counternarrative other than the one that grips the world today.
In Confronting Religious Violence, twelve international experts from a variety of theological, philosophical, and scientific fields address the issue of religious violence in today's world. The first part of the book focuses on the historical rise of religious conflict, beginning with the question of whether the New Testament leads to supersessionism, and looks at the growth of anti-Semitism in the later Roman Empire. The second part comprises field-report studies of xenophobia, radicalism, anti-Semitism, and Islamophobia surrounding the conflicts in the Middle East. The third part reflects on moral, philosophical, legal, and evolutionary influences on religious freedom and how they harm or help the advancement of peace. The final part of the volume turns to theological reflections, discussing monotheism, nationalism, the perpetuation of violence, the role of mercy laws and freedom in combating hate, and practical approaches to dealing with pluralism in theological education.
Edited by Rabbi Lord Jonathan Sacks and Richard Burridge, Confronting Religious Violence contains insights from international experts that form essential reading for politicians, diplomats, business leaders, academics, theologians, church and faith leaders, commentators, and military strategists—anyone concerned with a harmonious future for human life together on this planet.
About the Editors
Richard A. Burridge is the Dean of King's College London and Professor of Biblical Interpretation.
Rabbi Lord Jonathan Sacks is an international religious leader, philosopher, and award-winning author. He was awarded the 2016 Templeton Prize and has authored more than thirty books.