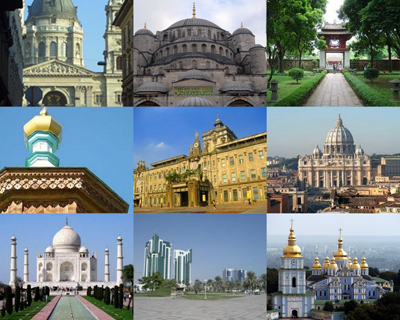 The first half of 2011 saw unprecedented activity at the International Center for Law and Religion Studies of the J. Reuben Clark Law School, Brigham Young University. Center representatives participated in some two dozen conferences, lectures, roundtables, constitution- and capacity-building endeavors, and other presentations in the United States and in fifteen countries worldwide. In addition to those reported in this newsletter were events in Utah, California, Texas, Nevada, Britain, Poland, Belgium, Austria, Serbia, Hungary, Turkey, Indonesia, and Nepal.
This half-year's work culminated in the preparation of the first U.S. Supreme Court amicus brief filed by the Center as a whole, submitted to the Court on 20 June 2011 in support of the petitioners in the Hosanna-Tabor "ministerial exception" case, which has been termed the "most important religious freedom case to come before the Court in decades." The intense eight-week effort engaged everyone at the Center, including a strong student research team under the direction of Center Managing Director Robert T. Smith, with principal drafting by Associate Director Elizabeth A. Clark.
In company with the J. Reuben Clark Law Society, the Center launched a new Religious Freedom Discussion Series, with lectures delivered six times a year at the Law School and made available via live Webinar to listeners around the world. Guests visited the Center from half-dozen foreign countries. Enlistment, training, and contributions of Research Advisors continued, and an advisory board of interdenominational experts was recruited to assist with the Center's most ambitious ongoing publication project – the treatise Religious Organizations and the Law.
Additional projects included publication and preparation for publication of numerous conference papers and book chapters; the first volume of the series Islam in Europe, soon to appear from Ashgate Publishing; and preparations of the final volume of international reports on Religion and the Secular State, published by the Center in an interim volume in 2010.
Ambitious work on website development by Marshall Morrise continued as well, with major developments – including greatly enhanced Religlaw Country Portals – set to appear this summer.
We invite you to read in this newsletter about much of this effort, and to consult the Center's websites (iclrs.org, strasbourgconsortium.org, and religlaw.org) to read of much more, including upcoming events such as the Center co-sponsored conference in Melbourne, Australia; the Center-directed Second Summer Conference on Religion and the Rule of Law, in Beijing, China; the Second ICLARS Conferenece in Santiago, Chile; and the 18th Annual International Law and Religion Symposium in Provo.
As always, we thank you for your interest, send you our warmest greetings, and welcome your feedback and participation.
Donlu Thayer, Managing Editor
International Center for Law and Religion Studies