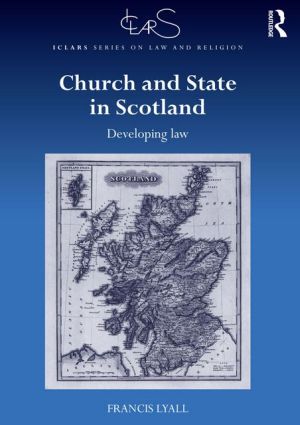 Church and State in Scotland: Developing Law
Francis Lyall
Routledge ICLARS Series on Law and Religion 2016
The interaction of faith and the community is a fundamental of modern society. The first country to adopt Presbyterianism in its national church, Scotland adopted a system of church government, which is now in world-wide use. This book examines the development and current state of Scots law. Drawing on previous material as well as discussing current topical issues, this book makes some comparisons between Scotland and other legal and religious jurisdictions. The study first considers the Church of Scotland, its 'Disruption' and statutorily recognised reconstitution and then the position of other denominations before assessing the interaction of religion and law and the impact of Human Rights and various discrimination laws within this distinctive Presbyterian country. This unique book will be of interest to both students and lecturers in constitutional and civil law, as well as historians and ecclesiastics.
About the Author
Francis Lyall, now Emeritus Professor of Public Law at the University of Aberdeen, was involved in the Church of Scotland, as a church elder, a member of the Presbytery of Aberdeen, several times a commissioner to the General Assembly of the Church of Scotland, and as a three-term member of its Panel on Doctrine. He was a member of the Evangelical Alliance Commission on Faith and Nation (published 2006). In 1993 he held, as Visiting Professor, the Willem E Oncelin Chair of Canon Law in the Faculty of Canon Law, of the University of Leuven (Louvain). He has published many religion-relevant books and articles.