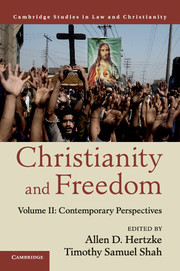 Christianity and Freedom: Volume 2 .Contemporary Perspectives
Allen D. Hertzke and Timothy Samuel Shah, ed.
Cambridge University Press, 2016 (paperback)
Volume 2 of Christianity and Freedom illuminates how Christian minorities and transnational Christian networks contribute to the freedom and flourishing of societies across the globe, even amidst pressure and violent persecution. Featuring unprecedented field research by some of the world's most distinguished scholars, it documents the outsized role of Christians in promoting human rights and religious freedom; fighting injustice; stimulating economic equality; providing education, social services, and health care; and nurturing democratic civil society. Readers will come away surprised and sobered to learn how this very Christian link to freedom often invites persecution. What are the dimensions of persecution and how are Christians responding to that pressure? What resources – theological, social, or transnational – do they marshal in leavening their societies? What will be lost if the Christian presence is marginalized? The answers to these questions are of crucial relevance in a world awash with religious extremism and deepening instability.
Gathers top scholarship on Christianity and human rights
Corrects prevailing misconceptions of the historical development of liberal freedoms
Shows how a profound theological idea propelled innovations in human history
Contributors: Todd M. Johnson, Paul Marshall, Donald E. Miller, Rebecca S. Shah, Allen D. Hertzke, Mark Brockway, Fenggang Yang, Robert W. Hefner, Zainal Abidin Bagir, Chad M. Bauman, James Ponniah, Reg Reimer, Sara Singha, Richard Burgess, Danny McCain, Mariz Tadros, Duane Alex Miller, Philip Sumpter, Daphne Tsimhoni, Michael Hoffman, Amaney Jamal, Matthew Barber