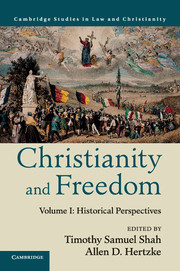 Christianity and Freedom: Volume 1. Historical Perspectives
Timothy Samuel Shah and Allen D. Hertzke, eds.
Cambridge University Press 2016 (paperback)
In Volume 1 of Christianity and Freedom, leading historians uncover the unappreciated role of Christianity in the development of basic human rights and freedoms from antiquity through today. These include radical notions of dignity and equality, religious freedom, liberty of conscience, limited government, consent of the governed, economic liberty, autonomous civil society, and church-state separation, as well as more recent advances in democracy, human rights, and human development. Acknowledging that the record is mixed, scholars document how the seeds of freedom in Christianity antedate and ultimately undermine later Christian justifications and practices of persecution. Drawing from history, political science, and sociology, this volume will become a standard reference work for historians, political scientists, theologians, students, journalists, business leaders, opinion shapers, and policymakers.
Gathers top scholarship on Christianity and human rights
Demonstrates the outsized role of contemporary Christian minorities and transnational networks in promoting human flourishing
Shows how a profound theological idea propelled innovations in human history
Contributors: Timothy Samuel Shah, Rémi Brague, Robert Louis Wilken, Elizabeth DePalma Digeser, John Rist, Kyle Harper, Ian Christopher Levy, David M. Lantigua, John Witte, Jr, David Little, Matthew J. Franck, Judge Kenneth Winston Starr, Elizabeth H. Prodromou, Daniel Philpott, Robert D. Woodberry