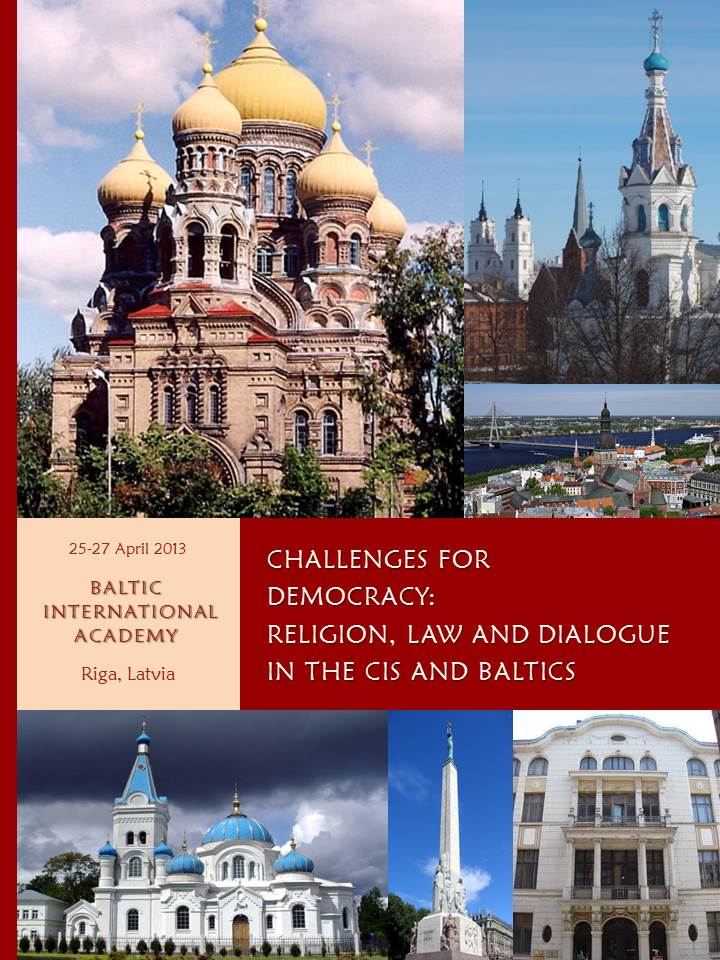 The conference "Challenges for Democracy: Religion, Law and Dialogue in the CIS and Baltics", was held 25-27 April 2013 at the Baltic International Academy in Riga, Latvia. The conference brought together some 50 scholars and government leaders from the CIS and Baltics to look at law and religion issues in this region.
The conference was sponsored by the Baltic International Academy; the Academy of Labor and Social Relations (Moscow), the Coordinating Council of CIS and the Baltics on Theoretical and Practical Religious Studies, the Center of Religious Studies Research "ReligioPolis" (Moscow), and the International Center for Law and Religion Studies (ICLRS) at Brigham Young University (USA). The conference organizing committee consisted of Ringolds Balodis, University of Latvia; Elizabeth Clark and Cole Durham, Brigham Young University; Ekaterina Elbakyan, Academy of Labor and Social Relations (Moscow); Merilin Kiviorg, Oxford University; Andrei Tatarchuk, Baltic International Academy; and Renata Uitz, Central European University.
Durham, Clark, and Russian-speaking law student Chris Pieper attended from BYU. Also attending were David and Linda Nearon, members of the Executive Committee of the ICLRS International Advisory Council, as well as ICLRS Regional Advisor for Eastern Europe, Robert Orton and LDS Associate General Counsel, William Atkin.
Conference Panels discussed the following topics:
Current Issues of Freedom of Religion in Latvian Legal Practice
The Problem of Establishing Expert Religious Opinions
Democracy, Religion, and Dialogue in Russia
Interaction of Religion, Policy and Lawmaking in the Baltic States
Democratic Approaches to Integrating Religious Minorities
The Role of Religious Organizations in Russian Society
Dialogue among Religions in a Democratic State
Interaction of Religion, Policy and Lawmaking in the CIS
Legal Regulation of Religion in Russia
Significance of New Religious Movements in the Baltics and CIS
Religion and Education in Russia
Secularism in the Contemporary Russian Media and Internet
The conference was videotaped and is being distributed through YouTube, the Baltic International Academy, and religiopolis.org [see video links below].