Center Fellow Tara Fitzgerald in the Spotlight – April 2016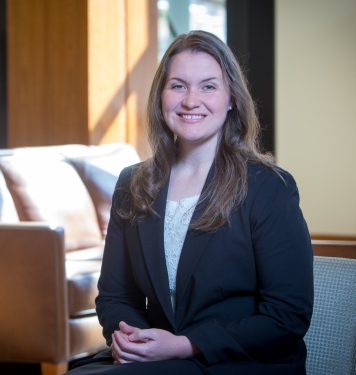 As a Summer Fellow for the International Center of Law and Religion Studied for 2014 and twice member of the Center's Student Management Board, Tara Fitzgerald worked at the Office of General Counsel for The Church of Jesus Christ of Latter-day Saints in Salt Lake City, Utah, undertook research and writing projects, and assisted with and attended religious liberty conferences in Washington, D.C. and Oxford, England. An April 2016 graduate of BYU Law School, Fitzgerald believes a law degree was the thing she was "missing" in her life.
After majoring in music education, Fitzgerald spent several years of "exploration and service" in various places and capacities, from serving a mission to teaching public school. Over the course of this time, she began to consider graduate school. "I had looked into several graduate programs, but I always felt that something was missing. Then one day it dawned on me that I had never considered law school," she said. Within a year, Fitzgerald was enrolled at BYU Law. "From that moment on, things fell into place. I felt excited, inspired, motivated, and encouraged—nothing was missing," she said.
While in law school, Fitzgerald served as the SBA Service Representative and the Managing Editor of Administration for the Journal of Public Law. During her second year, while serving as president of the Spirit in the Law Society, Fitzgerald planned and implemented a "Hike to the Y" to honor President Worthen's inaugural remarks. That same year, she served as co-president of the Law Choir. As a 1L, Fitzgerald helped implement a Christmas music devotional that continues to grow each year.
In addition to her many co-curricular activities, Fitzgerald also served on the management board for the International Center for Law and Religion Studies. In this caFitzgerald believes that her legal degree will continue to be instrumental to her life. "My BYU Law degree has helped me develop skills and awareness to better identify and defend critical issues significant to me," she said. Following graduation, Fitzgerald will use the skills she gained in law school to clerk for Judge Howard on the Utah 4th District Court. "I feel that I will learn a lot and that it will be a great capstone to my legal educational experience," Fitzgerald said.
See the Tara's Law School Graduation Spotlight here.