BYU International Law Chapter Voted Most Improved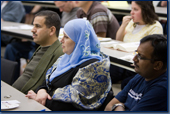 June 2009 – Provo
By Lee Simons
Brigham Young University's chapter of the International Law Students Association was selected to receive the "Most Improved Chapter" award for 2008-2009. BYU competed with more than 100 chapters internationally and was one of five winners.
Over the last year, the ILSA chapter at the J. Reuben Clark Law School significantly improved in membership numbers, events and recognition among the student body. "ILSA partnered with the David M. Kennedy Center for International Studies to bring in interesting speakers and connect with undergraduate students interested in studying international law," said Kaycee Hulet, ILSA chapter president and chief officer. "Guests have included Husain Haqqani, Pakistani ambassador to the U.S., John Dinkelman, head of the U.S. Consulate in Nogales, Mexico, Diane Card, a private attorney working in international law, and David Nevin, a defense attorney for Khalid Sheikh Mohammed, one of the 'high-value detainees' at Guantanamo Bay." ILSA members also participated in practices of the Philip C. Jessup International Law Moot Court Competition team and observed the Vis International Arbitration Moot team.
"Some of our events involve networking and informational sessions," Hulet said. "At our opening social last semester, we invited students and faculty to speak about externship and job opportunities in public and private international law." Members were also invited to participate as volunteers in the annual Law and Religion Symposium hosted at BYU, where they had the opportunity to interact with government and nonprofit leaders and academics from all over the world.