Brett Scharffs Appointed to BYU Law School's Rex E. Lee Chair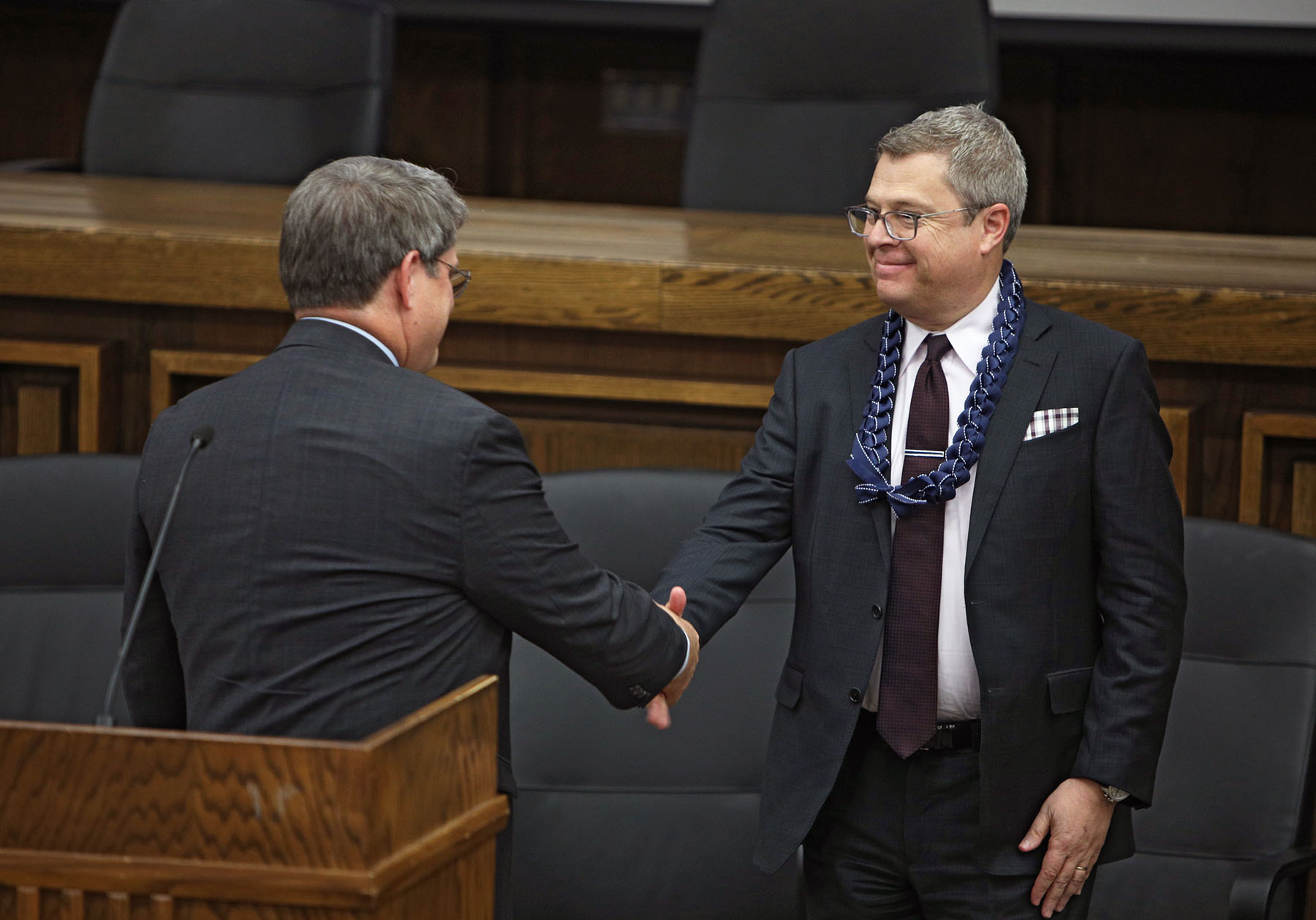 by Andrew Hoffman, BYU Law Student
On 15 November 2017, the J. Reuben Clark Law School held the final of this semester's three investiture ceremonies. Professor Brett Scharffs was honored with appointment to the distinguished Rex E. Lee Chair, a position created to honor the late Rex E. Lee, a former Solicitor General, Dean of the Law School, and President of Brigham Young University. Dean Gordon Smith and Professor Cole Durham provided a few introductory remarks before Professor Scharffs was formally invested.
Dean Smith praised Professor Scharffs for his achievements in the field of legal scholarship. Elder Dallin H. Oaks, while president of BYU, remarked that it is the duty of the law school to produce great scholarship that is not just great in the eyes of church membership, but in the eyes of the general citizenry. Throughout his twenty years of teaching, Professor Scharffs has published in renowned legal journals and is well-known amongst international legal circles.
Professor Durham provided a formal introduction, not just dealing with Professor Scharffs' general academic and legal accomplishments, but sharing specific instances that demonstrate Professor Scharffs' greatness. While in law school, Professor Scharffs worked as a research assistant for the former Dean of Yale Law School, Anthony Kronman. Under his guidance, Professor Scharffs learned not just how to be a lawyer, but a statesman lawyer embodying high moral and ethical principles.  Beyond developing influential scholarship, Professor Scharffs has established relationships with leaders in the legal field, working to bring about real change, particularly in the area of religious freedom. In Professor Durham's words, Professor Scharffs epitomizes the virtues mentioned in the sixth chapter of Micah—he does justly, loves mercy, and walks humbly with God.
Following his formal investiture, Professor Scharffs spoke regarding the general state of the legal field and the need for lawyers to develop the Aristotelian conception of good judgment. In contrast to monistic and skeptic theories of legal interpretation, Professor Scharffs advocates for a pluralistic theory, or a "middle ground between the grand pretentious of comic monistic and romantic skepticism." For Professor Scharffs, the outstanding lawyer—and the best legal theory—accounts for prudence, or practical wisdom. Today's lawyers have lost the commitment to Aristotle's ideal of practical wisdom. But by looking back to Aristotelian philosophy, Professor Scharffs is hopeful that we can revive a proper conception of "living in the law."
Three ideas lie at the heart of Aristotle's practical philosophy: practical wisdom, craft, and rhetoric. Each of these ideas of legal reasoning are associated with cardinal virtues lawyers should develop: craft is associated with integrity, practical wisdom with trustworthiness, and rhetoric with honesty. It is essential that lawyers develop all three components of legal reasoning as each has ameliorative effects, tempering the negative tendencies of the other components. As lawyers develop the virtues of integrity, honesty, and trustworthiness, good judgment will be inculcated and the legal profession as a whole can rise to its ideal station in society.