Baroness Elizabeth Berridge Receives 2017 International Religious Liberty Award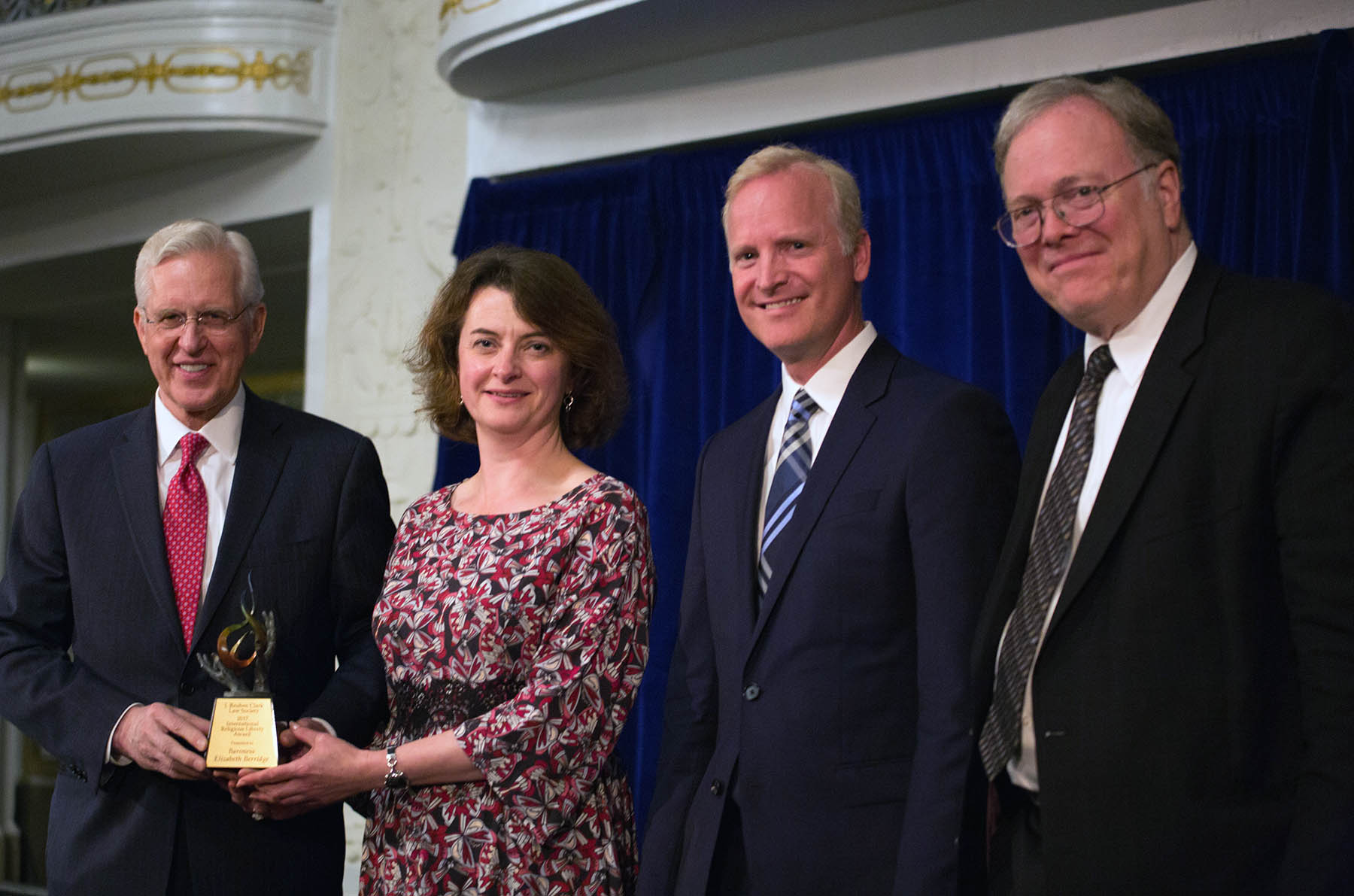 The J. Reuben Clark Law Society and the International Center for Law and Religion Studies were honored to present the International Religious Liberty Award for 2017 to Baroness Elizabeth Berridge for her many years of support and work for religious liberty.
Elizabeth became Baroness Berridge of the Vale of Catmose in the County of Rutland on 20th January 2011. As a member of the House of Lords she founded and chairs the All-Party Parliamentary Group on International Freedom of Religion or Belief (APPG) and is a member of the Joint Committee on Human Rights. Within her role as Baroness Berridge she works on projects relating to policing, human rights and foreign affairs and is patron of the Rutland Foodbank. She is a trustee of the think tank British Future, focusing on identity, integration, migration and opportunity. She is a commissioner on the Conservative Party Human Rights Commission and a member of the advisory council of the Foundation for Relief and Reconciliation in the Middle East.
The award was presented at the International Religious Liberty Awards Dinner held at the Mayflower Hotel in Washington, D.C. on Thursday, October 5, 2017. Elder D. Todd Christofferson of the Quorum of the Twelve Apostles of The Church of Jesus Christ of Latter-day Saints delivered the keynote address. Baroness Berridge followed with her acceptance remarks. Winners of the 2017 Founding Fathers Student Writing Competition were also recognized.
Prior to the award dinner, two consecutive panels were held. "The Economic Impact of Religious Liberty" was comprised of panelists Brian J. Grim, President of the Religious Freedom & Business Foundation, Debbie Marriott Harrison, Marriott International's Global Officer, Marriott Culture and Business Councils, Paul Lambert, Assistant Dean at Georgetown University's McDonough School of Business, and Nathan C. Walker, Executive Director of 1791 Delegates. "Promoting Religious Liberty Within Your Sphere of Influence" was comprised of panelists Elder Von Keetch, Tim Schultz, President of the First Amendment Parnership, Montse Alvarado, Director of Strategy, Becket Fund, and Thomas F. Farr, President of the Religious Freedom Institute.
Prior International Religious Liberty Award recipients are:
2016: Katrina Lantos Swett, President, Lantos Foundation for Human Rights and Justice
2015: Most Rev. William E. Lori, Archbishop of Baltimore
2014: Congressman Frank Wolf
2013: Dr. John Graz, Secretary General of International Religious Liberty Association
2012: Professor Douglas Laycock, University of Virginia School of Law
2011: Kevin J. "Seamus" Hasson, Founder of Becket Fund for Religious Liberty
2010: Senator Joseph Lieberman