Articles Explore U.S. Responses to Worldwide Threats to Religious Freedom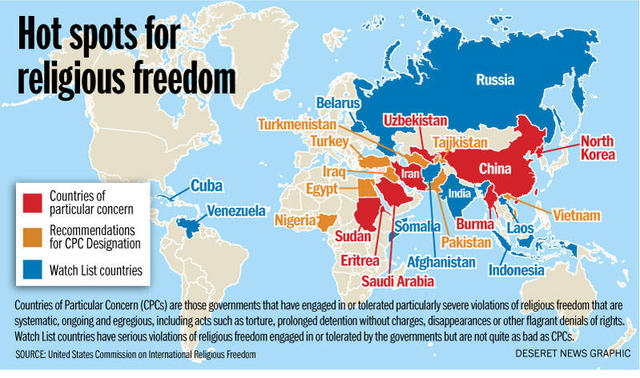 Two articles on escalating threats to religious freedom and U.S. efforts to control those threats appeared in the Deseret News on 24 and 25 March 2012. Part 1, "Religious freedom as a core human right: A three-sided, global debate," discusses the current problems and competing values at home and abroad that make effective action in area difficult. Part 2, "International religious-freedom efforts split on policies and structures," explores U.S. policy responses since 1998, which include a contentious governmental structure and strategic divisions among religious religious liberty advocates.
From Part 1: "Trouble spots span the globe, with hundreds of incidents in scores of countries each year. In some, the suppression of religious freedom is dehumanizing but not life-threatening; in others, the risk of genocide or "religious cleansing" is real, immediate and growing.
In response, the United States has tried to appeal to universal values and international agreements as it seeks to shame, badger or entice problem nations to reform. But the universality of those values has frayed in recent years, and the elite consensus at home to shore them up is shaky."
From Part 2: "In December, the controversial International Religious Freedom Commission was nearly allowed to expire when a last-minute congressional compromise saved it. At the same time, the Obama administration has significantly downgraded the role of the religious freedom ambassador in the State Department, critics say, leaving the agenda adrift there. The tale of these two entities demonstrates how international religious freedom became a core human right in U.S. foreign policy, though one whose place remains insecure and contentious."
The author of the reports, Eric Schulzke holds a Ph.D. in Political Science from U.C. Berkeley. He directs The Apollo 13 Project, a prisoner reentry awareness initiative at cUtah Valley University.