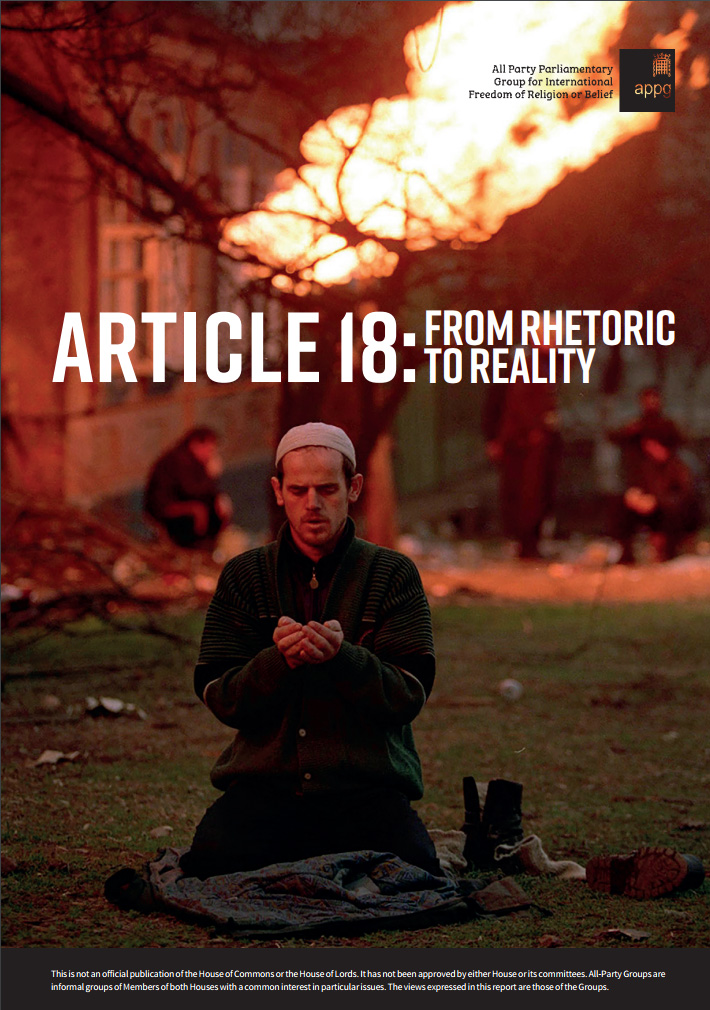 Article 18: From Rhetoric to Reality
All Party Parliamentary Group for International Freedom of Religion or Belief (APPG)
October 2017
Article 18: From Rhetoric to Reality is a timely report. It is four years since the All Party Parliamentary Group's first report Article 18: An Orphaned Right highlighted the situation of millions of people around the world who face persecution or discrimination because of their religion or beliefs. In the intervening years, violations of the right to freedom of religion or belief (FoRB) have not diminished, and discrimination and persecution in the name of religion or belief continue in many countries across the world.
While there is now considerable national and international discussion about the importance of freedom of religion or belief and how to tackle the violations, there remains a need to embed systematic and proactive actions and policies to move FoRB from rhetoric to reality.
This report has taken evidence from a range of individuals and institutions and offers a number of recommendations and suggestions for good practice which, if implemented, will have the power to transform the lives of vulnerable people.
The work that has gone into this report is extensive. I should like to record special thanks to the staff in the APPG office, Katharine Thane, the Operations Director, and Amro Hussain, the Parliamentary Officer, for their sterling work in drafting, editing and producing this report. The extensive commitment this has taken is typical of their unflagging interest and enthusiasm and is much appreciated. Grateful thanks should also go to all those who contributed to the report, and gave freely of their time to steer and edit the contents. I should also like to thank particularly, Dr Ahmed Shaheed, the UN Special Rapporteur for Freedom of Religion or Belief for his Foreword, and Brigham Young University for their generous financial support which has made the production and launch of this Report possible. Last, but by no means least, I should like to thank our Stakeholders whose faithful financial and practical support enables this APPG to be a voice for those who have none, and resources its Members to speak out in the UK Parliament, Government and across the international stage on behalf of all those who face persecution every day.
Jim Shannon MP
Chair, APPG for International Freedom of Religion or Belief