Apostle Dallin H. Oaks Speaks of Truth and Tolerance, Decries Moral Relativism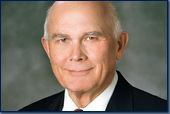 Elder Dallin H. Oaks, member of the Quorum of the Twelve Apostles of The Church of Jesus Christ of Latter-day Saints, addressed a gathering in the Marriott Center on the campus of Brigham Young University, on the evening of 11 September 2011. Before his calling as an Apostle in 1984, Elder Oaks had served as a distinguished practitioner and teacher of law in Chicago and Utah. Formerly President of Brigham Young University, Elder Oaks was at the time of his call to Church leadership a member of the Utah State Supreme Court.
Speaking on the 10th anniversary of the tragedies of September 11, 2001, Elder Oaks addressed the "twin virtues" of "Truth and Tolerance," beginning with the affirmation "We believe in absolute truth." Reminding hearers that Jesus told the Roman governor Pilate that He came into the world to "bear witness unto the truth" (John 18:37-38) and that He had declared, "I am the way, the truth, and the life" (John 14:6), Elder Oaks stressed the importance of avoiding the pitfall of moral relativism, which is "becoming unofficial creed for many in America and other Western nations."
Quoting the words of former Church President Joseph F. Smith, Elder Oaks emphasized that "We believe in all truth, no matter to what subject it may refer. No sect or religious denomination in the world possesses a single principle of truth that we do not accept or that we will reject. We are willing to receive all truth, from whatever source it may come; for truth will stand, truth will endure."
On the subject of tolerance, Elder Oaks noted ironies and gave advice: "Unfortunately, some who believe in moral relativism seem to have difficulty tolerating those who insist that there is a God who should be respected and certain moral absolutes that should be observed," he said.
The proper notion of tolerance, he offered, is based on three principles:
First, all persons are brothers and sisters under God, taught within their various religions to love and do good to one another.
Second, this living with differences is what the Gospel of Jesus Christ teaches us we must do.
Third, our tolerance and respect for others and their beliefs does not cause us to abandon our commitment to the truths we understand and the covenants we have made.
Based on these notions, Elder Oaks gave counsel for how believers should "enter the public square to try to influence the making or the administration of laws motivated by their beliefs":
First, when believers in Jesus Christ take their views of truth into the public square they must seek the inspiration of the Lord to be selective and wise in choosing which true principles they seek to promote by law or executive action.
Second, when believers seek to promote their positions in the public square, their methods and their advocacy should always be tolerant of the opinions and positions of those who do not share their beliefs. We should not add to the extremism that divides our society.
Third, believers should not be deterred by the familiar charge that they are trying to legislate morality. Many areas of the law are based on Judeo/Christian morality and have been for centuries. Our civilization is based on morality and cannot exist without it. As John Adams declared, "Our Constitution was made only for a moral and religious people. It is wholly inadequate to the government of any other."
Fourth, believers should not shrink from seeking laws to maintain public conditions or policies that assist them in practicing the requirements of their faith where those conditions or policies are also favorable to the public health, safety or morals.
In conclusion Elder Oaks assured hearers of his own witness of the mission of Jesus Christ, who "reaches out to each of us with the timeless invitation to receive His peace by learning of Him and walking in His way."