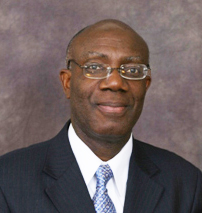 Adesina J. Olukanni joined the Center as a Senior Fellow for Africa upon his retirement in late 2016 after nearly a decade of service in Public Affairs for The Church of Jesus Christ of Latter-day Saints in Africa. He has served in numerous Church positions, including high counsellor, branch president, district president's counsellor, district president, mission president's counsellor, stake president, Area Seventy, and counsellor in the Africa West Area Presidency. He was the Country Director in Nigeria for Church Education Systems of the Church between April 2004 and March 2007. He came into Public Affairs in April of 2007 as the Director of Public Affairs for the Church in the Africa West Area and the Africa South East Area. He served as Director in the Africa West Area until his retirement.
During nearly long tenure in Church public affairs, he helped launch and establish public affairs work in more than 30 countries in sub-Saharan Africa. He helped build and maintain important relationships with the news media, leaders of other faiths, government leaders, tribal kings, community leaders, and academics.
Through his relationship-building and event-planning efforts, there is now a widespread awareness of the need to protect religious freedom in Africa. This awareness has generated annual religious academic conferences in Nigeria and Ghana attended by hundreds of law faculty law and religion students and many members of the bar and judiciary, including Supreme Court Justices and appellate judges. It has also led to the formation of the Law and Religion Center and Association in West Africa and Nigeria.
Adesina was the Head of Information Technology, Department of the West African Portland Cement Plc. Lagos, Nigeria (formerly a subsidiary of Circle Cement now Lafarge Cement) for 11 years out of a total of 17 years he spent working for the Company. Before that in he worked in management positions in other blue chip companies in Nigeria, including the A. G. Leventis Group. During his career in Information Technology, he developed hundreds of business systems. His work during this period in system design and development and as ICS administrator provided him with a tremendous wealth of experience in building relationships of trust with people of diverse vocations and backgrounds.
Adesina has a bachelor's degree in Computer Science and Economics from the University of Ife (now Obafemi Awolowo University, Ile-Ife) and a Master of Science degree in Computer Science from the University of Lagos, Nigeria.