About the International Consortium for Law and Religion Studies (ICLARS)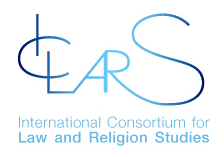 The International Consortium for Law and Religion Studies (ICLARS) is an international network of scholars and experts of law and religion begun in 2007 with Professor Silvio Ferrari of the University of Milan as President. The purpose of ICLARS is to provide a forum for exchange of information, data, and opinions among members, which are then made available to the broader scientific community. Currently, ICLARS has members from more than 40 countries.
Succeeding Professor Ferrari (now Honorary Lifetime President) in 2011, the current president of ICLARS is Professor W. Cole Durham, Jr., Susa Young Gates University Professor of Law and Director, International Center for Law and Religion Studies (ICLRS), J. Reuben Clark Law School, Brigham Young University. Vice-president is Professor Ana Maria Célis Brunet, Professor and Director of the Center of Religious Liberty of the Facultad de Derecho at the Pontificia Universidad Católica de Chile (Santiago). The ICLARS steering committee are eminent law and religion scholars from Italy, Spain, India, Argentina, Germany, Israel, and South Africa.
ICLARS organizes conferences every other year and publishes a regular newsletter. The first ICLARS conference took place in Milan 22-24 January 2009. Proceedings of this conference were published as Law and Religion in the 21st Century: Relations between States and Religious Communities, Silvio Ferrari and Rinaldo Cristofori, eds. (Ashgate (2010).
The proceedings of the second ICLARS conference, held in Santiago, Chile, in September 2011, have been published as Law, Religion, Constitution: Freedom of Religion, Equal Treatment, and the Law, W. Cole Durham, Jr., Silvio Ferrari, Cristiana Cianitto, and Donlu Thayer, eds. (Ashgate 2013).
The third ICLARS Conference was held in Virgina, USA. Two books arising from presentations at that conference have been part of the new Routledge ICLARS Series on Law and Religion. The first, Religion and Equality: Law in Conflict, appeared in June 2016. The second, Religion, Pluralism, and Reconciling Difference, is scheduled to appear later in 2016. Both are edited By W. Cole Durham, Jr., and Donlu Thayer.