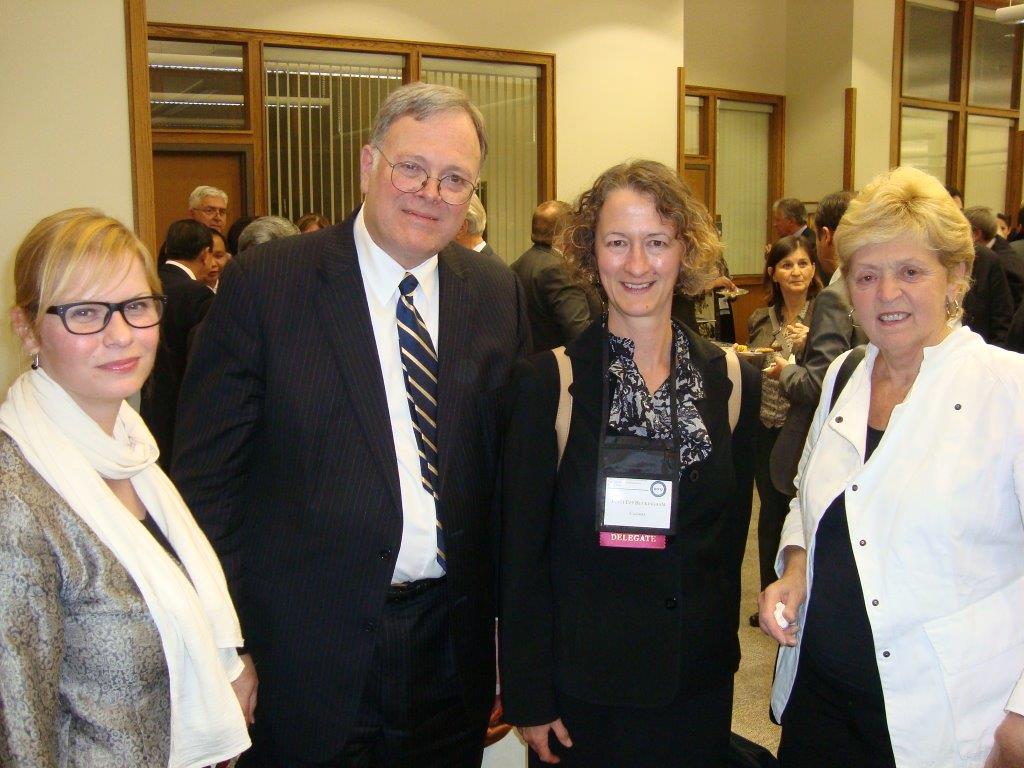 Eric Schulzke, Deseret News – 9 January 2014
In a crowded, wood-paneled mock courtroom at a recent conference on religious liberty in Provo, delegates from 40 countries listened intently through their headphones as translators scrambled to integrate 15 languages, ranging from Macedonian to Vietnamese.
At the podium, a South African judge told how he twice overruled parental religious objections, forcing them to allow their child a blood transfusion. "I think in both cases the parents were eventually happy that their children survived," he said.
A Malaysian lawyer later stood to condemn any religious influence in public life. "Human rights is the enemy of all religions," he said, his perspective bent under the weight of a heavy-handed Muslim majority at home. "Human rights stem from ancient Greece."
Not everyone agreed. "Secularism is the enemy," insisted an Evangelical Christian from Great Britain, warning that Parliament's new gay marriage laws in the U.K. strip religious institutions of their rights to dissent.
In the corner of the room, through all the chaos of language and perspective, sat a slightly rumpled figure in a pinstripe suit, a large man with a soft, quiet face. He appeared to be bystander but was, in fact, the man who brought them all together.
This is the world of Cole Durham, the mastermind behind the chaos, a facilitator who gets people talking about tectonic friction at the intersections of religion, society and the state. The event was the 20th annual conference of the International Center for Law and Religion Studies at BYU's J. Reuben Clark Law School in Provo, Utah.
The delegates came to talk. And perhaps to listen. Durham's job, as he sees it, is to bring them together and then get out of their way. His aim, said Brett Scharffs, a BYU colleague who works closely with Durham, is to help foster an intellectual framework that can, in time, grow into legal systems that protect religious freedom for people of all faiths.
"Cole's mission is so important and so well executed," said David Little, a retired Harvard divinity professor and longtime associate of Durham's. "He aims to educate people about the complexities of religion in public life, and creates spaces in which these conversations can take place."
Four types of conflict
There are four main arenas of religious conflict on the scene today, said Zachary Calo, a Protestant who teaches law at Valparaiso University in Indiana. And Durham's agenda reaches to all four.
In the secular West, Calo said, society and the state make ever-expanding demands that increasingly force traditional believers into a corner. Deciding when those claims are compelling and when they are oppressive is not always easy. Jehovah's Witnesses resist blood transfusions for their kids. In France, the government has banned the head scarf. In the U.S. and the U.K., traditionalists clash with advocates of gay equality.
The second type occurs when suspicious police states resist alternative sources of moral authority that could come between the citizen and the state, Calo said. In Vietnam, Catholics face persecution. In Russia, various evangelical and nontraditional sects are targeted, reflecting a pragmatic alliance between the dominant Russian Orthodox Church and the authoritarian Russian state. And in China the story is much the same: a secular regime that resents faiths that come between the state and the citizen.
Calo's third arena of friction involves Islamic states, where religious minorities often struggle against formal oppression and informal violence.
Finally, there's friction in Africa, where Christians and Muslims grate against each other in a relative state of anarchy, with the conflict often taking on a tribal feeling rather than reflecting a single dominant religion or powerful state.
Always moving
All four of these arenas were well represented at the BYU conference, a rare moment when the world came to Durham rather than the reverse. Durham is always in motion and seems to be everywhere at once. Efforts to pin him down for an interview drag on for months
"My wife and I estimated the other day that I am on the road about half the time," he says, when we finally sit down. Even as we talk, his bags are packed for a three-week barnstorm through Spain, Italy, Israel, Ethiopia and Turkey. At each stop, he will engage with scholars, lawyers and policymakers in conversations much like those that occurred at the BYU conference.
Durham has the look and bearing of a high-powered British barrister or corporate attorney, as well as the pedigree, with bookend bachelor's and law degrees from Harvard. He speaks quietly and deliberately, crafting thoughts with a long developed awareness that people of vastly different viewpoints will be parsing and, he hopes, embracing.
"He has a reassuring calmness and the demeanor and confidence of a patrician," Calo said. But there is nothing self-conscious about him. "What you see with Cole is what you get."
His quiet demeanor belies his vast reach, Durham's colleagues say. He is widely consulted by countries on constitutional revisions to protect religious liberty. He co-edits the Oxford Journal of Law and Religion, and Durham and Scharffs together co-authored a widely used textbook on law and religion, now translated into Chinese, Vietnamese and, soon Scharffs said, to be available in Turkish. Not coincidentally, all three of these languages reflect hot spots for law and religion issues.
Every year, Durham teaches a course on comparative and international law and religion at Central European University in Budapest, and he teaches an annual program in Beijing on religion and the rule of law, with about 50 students comprised of law professors, graduate students, judges, government officials and religious leaders.
A world of trouble
The world dialog over religious freedom has shifted considerably since Durham stepped into the arena nearly 40 years ago.
There have been jarring ups and downs on the ground, but lately some traction on the diplomatic level. In 1998, the U.S. set up a formal religious freedom initiative, complete with an independent watchdog commission. Canada, Durham says, recently followed with its own watchdog group, and the U.K. and Sweden have also adopted similar priorities.
With Western diplomatic pressure, countries around the world have been put on notice that their records on religious liberty are being noted. And they are aware, Durham notes with diplomatic indirection, that "there are political gains to be had" by making progress on religious liberty.
Vietnam, for example, was forced to dial back official persecution of Catholics before it was allowed to join the World Trade Organization in 2007. Some critics argue Vietnam has slipped back since reaching that goal.
Turkey was outraged when the U.S. Commission on International Religious Freedom briefly put the country on its watch list in 2012, considered a diplomatic black mark for a country that has long been a reliable NATO ally and has aspired to integrate culturally and economically with Europe. USCIRF cited oppressive control of minority religious communities and rising anti-Semitism in Turkish culture and media.
Western nations are coming alive to religious liberty concerns, Durham said, because "there is a lot of empirical evidence now that religious freedom fosters a lot of different goals that the great democracies have. It contributes to peace, it helps with poverty, it helps with development."
Western countries, meanwhile, have their own controversies. The U.K. was flummoxed this past year as it struggled to legalize gay marriage without forcing conformity from dissenting religions. And in France, the secular state has regulated religious symbols in public schools, a measure mainly targeted at Muslim women wearing the head scarf.
Back at the religious liberty conference in Provo, a panel discussion featured speakers from Lebanon, Turkey and Egypt — three countries with historically large but increasingly beleagured Christian populations. A Lebanese professor, speaking in French, obliquely criticized Turkey's current posture on religious pluralism, touting Lebanon as a model. The Turkish delegate then took the podium, speaking in Turkish, passionately defending his country's record and condemning Western "Islamaphobia." Audience members, headphones affixed and pausing for translation, then engaged them both.
In the corner of the room sat the soft, quiet man whose vision brought them together. He listened but didn't talk. He didn't need to.
Email: [email protected]