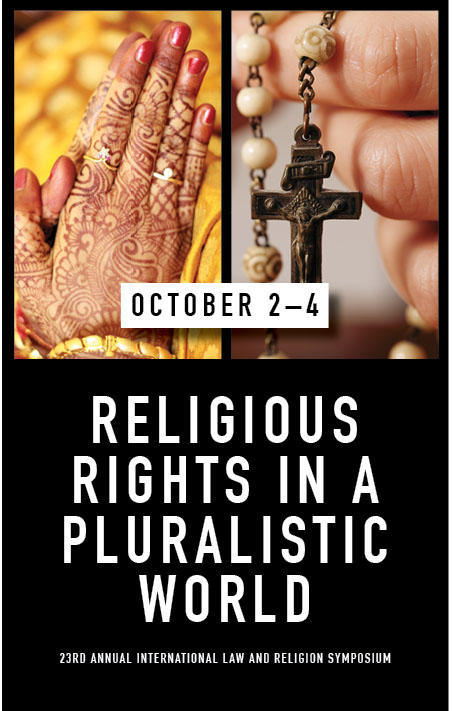 The 23rd Annual International Law and Religion Symposium of the International Center for Law and Religion Studies at Brigham Young University opened on Sunday evening, 2 October 2016, with an outstanding keynote address by Professor Heiner Bielefeldt, who currently serves as the UN Special Rapporteur on Freedom of Religion or Belief. Professor Cole Durham, Founding Director of the Center, presented Professor Bielefeldt with the Center's Distinguished Service Award, for his outstanding contributions.
This year's truly remarkable Symposium — "Religious Rights in a Pluralistic World" — brought together 95 invited delegates, including scholars, jurists, political and civil society leaders, and religious leaders and religion policy makers from 45 countries, providing them an important opportunity for engagement on issues of religion, law, and policy. Speakers and panelists explored the relationships among religion, pluralism, and religious rights as they addressed such issues as "Religious Rights and Culture," Exemptions, Baselines, and Discrimination: Conceptualizing Religious Rights," and "Minorities, Majorities, and Religious Rights."
In an increasingly pluralistic world, societies and legal systems struggle to articulate the roles religion and religious believers play in their communities.  How should a legal system protect the rights of religious groups and believers?  What role should neutrality, secularism, or dominant religions play in civic life?  How can we articulate the relationship between religious rights and culture, particularly in a time of shifting cultural norms?  How can religious rights best protect religious minorities or religious believers in a pluralistic world?
Program and Directory of Delegates
Reports and recordings of Symposium sessions.