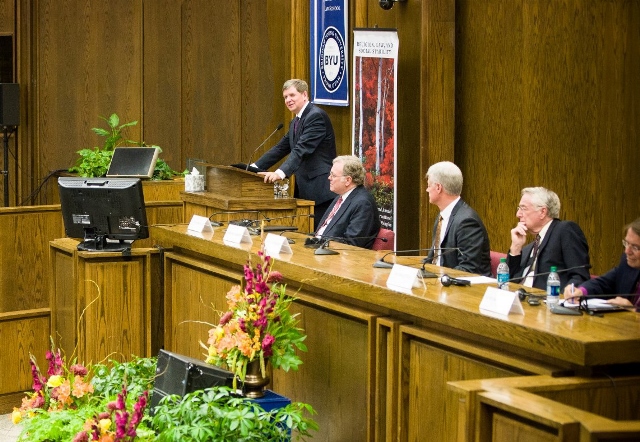 The Twenty-second Annual International Law and Religion Symposium was held 4-6 October 2015 on the campus of Brigham Young University in Provo, Utah. This year's delegates — approximately 90 leading scholars, jurists, and political and civil society leaders from 38 countries — joined in exploring issues surrounding the theme Religion, Law, and Social Stability.
The Center expresses its gratitude to the distinguished keynote speakers, who also received this year's Distinguished Service Award. Dr. Gunnar Stålsett and Professor David Little opened the conference with excellent and thought-provoking addresses.
The Center is also immensely grateful to all of the distinguished delegates, many of whom made considerable sacrifices to travel long distances to be with us in Provo and Salt Lake City. The depth and breadth of the presentations concerning complex and difficult issues, conducted in an atmosphere of collegiality, respect, and hope, were truly remarkable.
We are profoundly grateful as well to members of the International Advisory Council for their help in hosting the delegates, and our outstanding Student Executive Committee from the BYU Law School, whose volunteer service in planning and organizing throughout fall semester and sacrifice of time and energy during a mid-semester break, as they, along with some 100 students they recruited from across the BYU campus, worked long hours to make such a complex event possible.
Religion continues to be a major factor in conflict, peacemaking, and the establishment of or disruption to the rule of law throughout the world. This year's Symposium delegates were invited to explore the relationships and tensions among religion, law, and social stability as they considered questions such as these:
To what extent can religion and religious freedom play a helpful role in resolving social and political conflict?
How is religion and religious extremism related to violence?
What role can or should religious organizations play in society?
Can they contribute to building more just, peaceful, and stable communities?
How should the law address religious freedom claims?