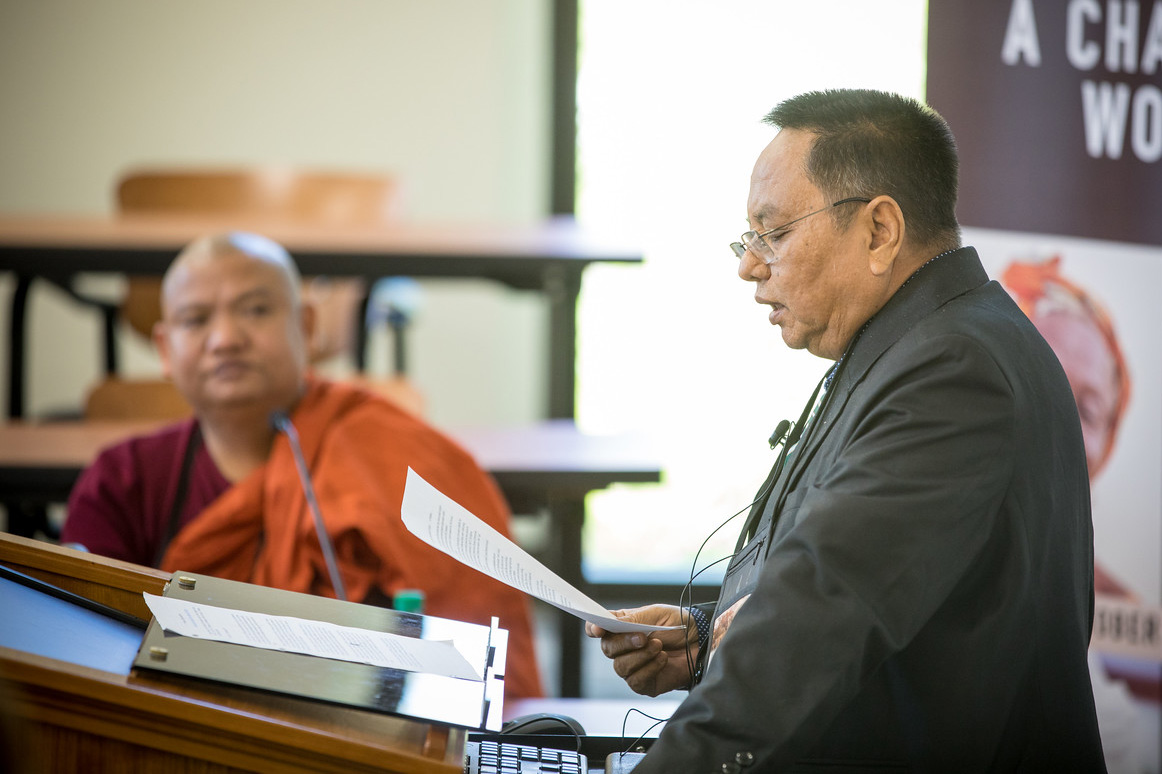 by Joshua Prince, BYU Law Student and Symposium Volunteer
At 2:00 PM on Tuesday, October 3, 2017, the International Center for Law and Religion Studies hosted a session on religious freedom issues from Myanmar. Sutacara Lankara, a professor at the Sitagu International Buddhist Academy in Myanmar, began the session and presented some remarks on how the "spirit of tolerance and mutual understanding" are necessary for religious freedom to flourish. These values have, "from the very beginning" been necessary for the furtherance of freedom and lead to a reduction of "prejudice in men's minds." It is this reduction that is necessary if men are to be "allowed to choose his freedom according to his own convention." Indeed, Professor Lankara argued, as truth is the common goal of all religions, we must allow all to find the "truth, harmony, and peace within ourselves."
Next, Thein Than Oo, the General Secretary of the Independent Lawyer's Association of Myanmar spoke. He highlighted the constitution of Myanmar, which governs a "religiously diverse country." The country's diversity is preserved in the country's 2008 constitution, where Article 34 holds that "[e]very citizen is equally entitled to freedom of conscience and the right to freely profess and practise religion subject to public order, morality or health and to the other provisions of this Constitution." This constitutionally preserved freedom is beneficial to the country's many different religious faiths. Even with this protection, often times there is prejudice in the country, leading to religious minorities taking arms to protect their right to worship. This was only intensified with the constitution specifically recognizing Buddhism as having a "special position" in Myanmar because it is the "faith professed by the great majority of the citizens of the Union." Myanmar Const. art. 361.
Ashin Ukkamsa, a lecturer at the Sitagu International Buddhist Academy, was the concluding speaker of the Myanmar breakout session. He spoke on political dissent, which has been said to be the "beauty of democracy." As beautiful as it was, however, he spoke of many different instances that show that "[e]ven democratic government cannot be trusted to act humanly when facing political dissent." He spoke on the constitutionality of laws that violate a citizen's rights to dissent and form political groups and associations.
The session was moderated by Tahira Carroll, Professor of Hindi, Brigham Young University.