2017 Symposium: Fourth Plenary: Conference Summation and Concluding Reflections on Conference Themes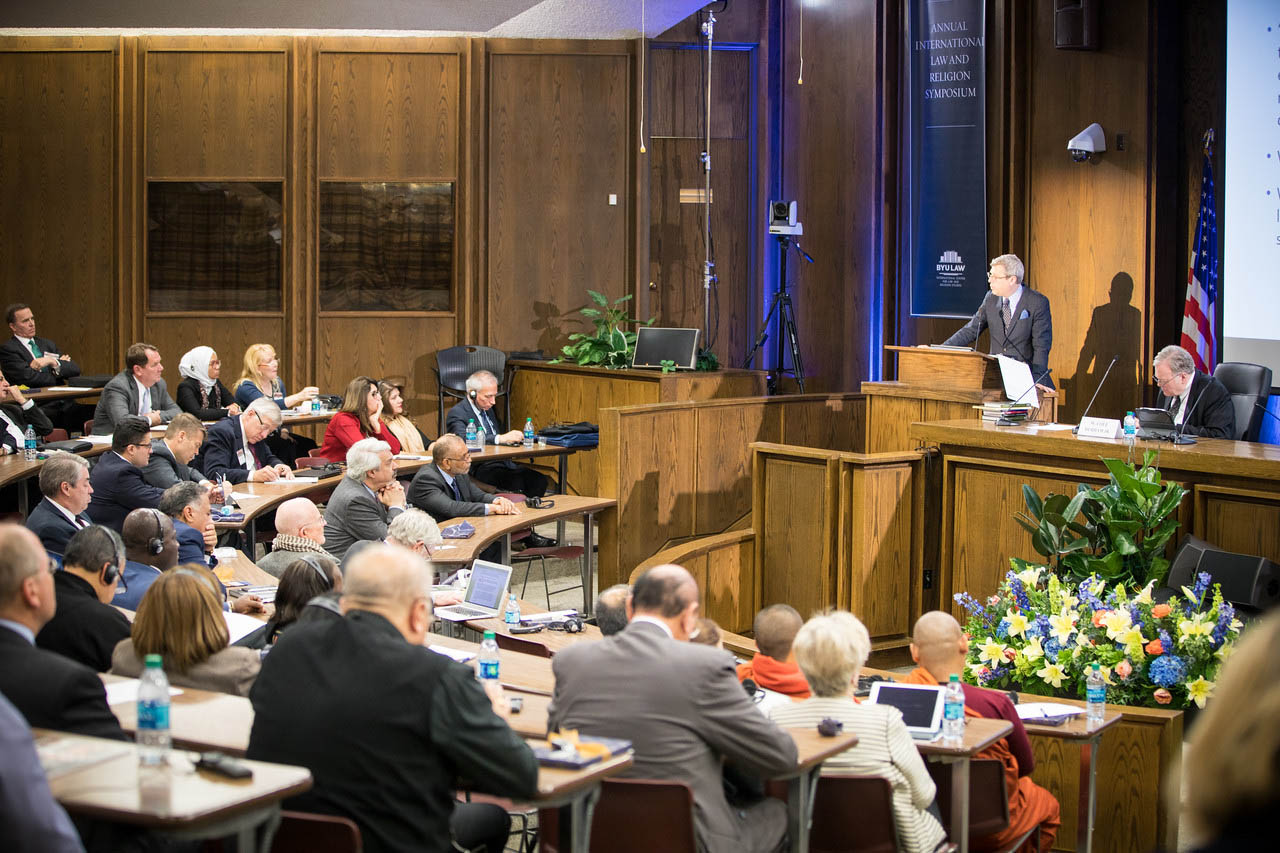 by Thomas Palmer, BYU Law Student and Symposium Volunteer
The fourth and final plenary of the 2017 Symposium was held on Tuesday afternoon, October 3, 2017. The session was opened by Brett Scharffs, Director of the International Center for Law and Religion Studies.
Professor Scharffs began by noting publications that were recently published by Symposium attendees.
He then presented on the topic "Are Human Rights a Western concept?" Professor Scharffs explained that the Universal Declaration of Human Rights (UDHR) was a revolutionary transformation in international law, because for the first time, human beings became subjects of international law. He examined some of the reasons why human rights are criticized as being merely a western concept. He then discussed the drafting of the UDHR, which included a diverse array of countries from throughout the world. He continued by discussing the universal guarantees discussed in the text of the UDHR. It is insulting to the rest of the world to say that human rights are a western concept, they are a human concept.
Professor Scharffs concluded by giving seven recommendations for the promotion of human rights: 1. Keep it simple. 2. Focus on core principles of human rights. 3. Avoid politicization to the extent possible. 4. Focus on rights as aspirations rather than as weapons. 5. Emphasize the right to not believe, as well as the right to believe. 6. Focus on non-legal mechanisms. 7. Focus on education.
Following Professor Scharffs remarks, W. Cole Durham, Jr., founding Director of the International Center for Law and Religion Studies, then spoke. Professor Durham thanked everyone that helped make the Symposium possible, along with all of those in attendance. Professor Durham invited a few of the Symposium attendees to share their reflections on the symposium. Here are just a few highlights from the comments that were given:
The ICLRS's response to the challenging situation we see in the world today is to pull up their sleeves and get to work. This symposium is drawing a critical mass of scholars, religious actors, and political leaders.
In Italy we have an interesting situation, with rights and principles well established but we have not yet defined the concept of religious freedom. As a member of parliament I have had to fight because some political parties are trying to compress religious freedom. I leave here today with a greater courage to fight for religious freedom because I see many people here that have that same feeling despite their religious affiliation.
The sessions have been intellectually stimulating and have caused me to think a lot. They have caused me to ask myself: what am I going to do about that?
Those of us concerned with law and religion in Latin America have a great debt to the Center because in this symposium they have allowed us to keep meeting with others concerned with the defense of religious freedom and we have a support and friendship that is very valuable.
In the UK, the greatest problems faced are not among religions, but between those with some religious faith and those that have none. Those that do not have religion in their lives struggle to understand religion and religious freedom. Two important missions for educational institutions are to (1) teach students and (2) advance human knowledge for betterment of humankind. BYU is doing an outstanding job at fulfilling both of these missions.
By attending the event we have realized that we still have a way to go in achieving religious freedom. Please continue to invite us to help us improve and become better.
Professor Durham then shared his reflections on the symposium. He discussed the opening session, and the presentations given by Jan Figel and Andras Sajo. He mentioned Jan Figel's talk about three evils that we need to resist: ignorance, indifference, and fear. He then mentioned Judge Sajo's talk on the tragedy of liberty and the reality that there are so many forces in the world today that are chipping away at things we care about deeply. He also discussed the alarming situation concerning the dissolution of the Jehovah's Witnesses in Russia.
He concluded saying "The Symposium builds networks of people that can stand together and make a difference in their communities. We must be able to support and reinforce each other in our defense of religious freedom."