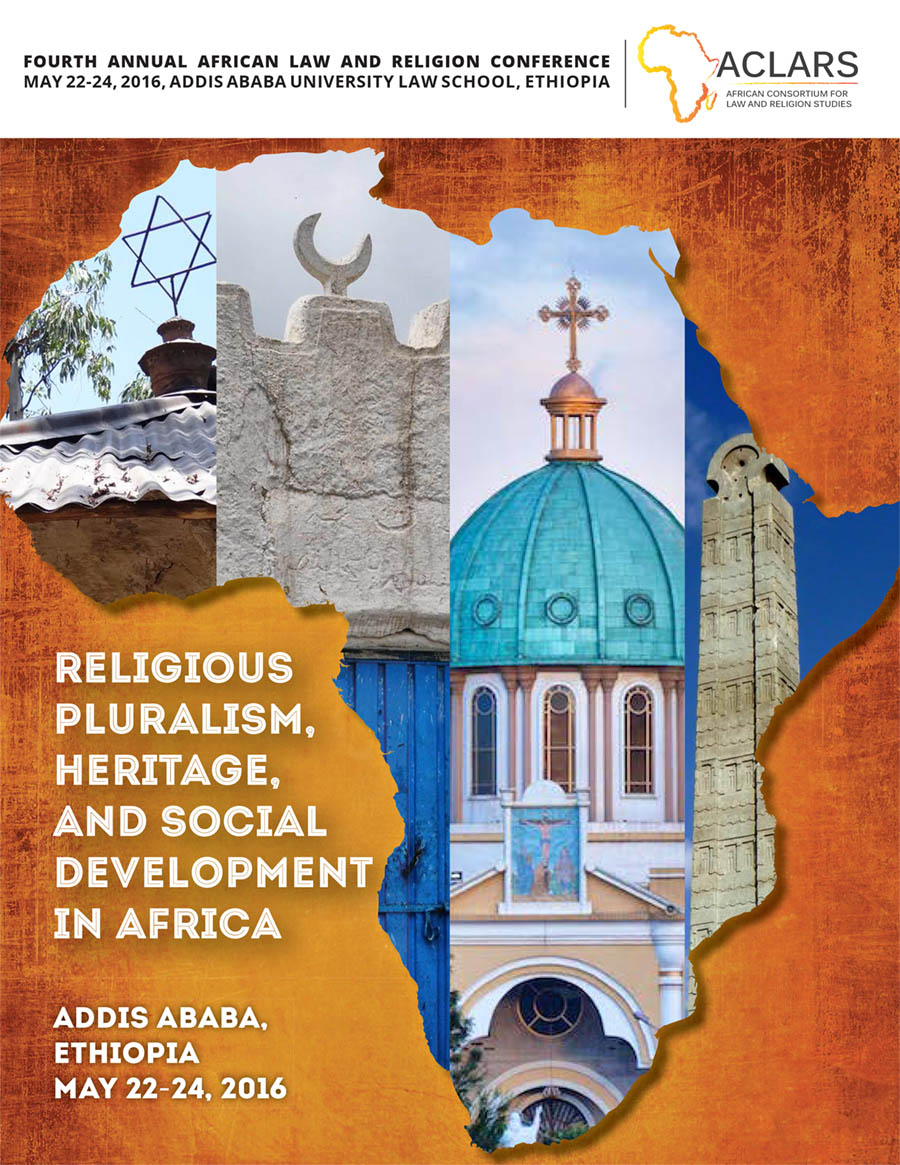 More than 60 scholars, legal professionals, and religious leaders from Africa and many other parts of the world joined in the Fourth Conference of the African Consortium for Law and Religion Studies (ACLARS), held Sunday, 22 May to Tuesday, 24 May, 2016 in Addis Ababa, Ethiopia. A workshop for early career scholars was held immediately prior to the conference on May 22. The theme of the conference, which was hosted by Addis Ababa University and held at the Capital Hotel, was "Religious Pluralism, Heritage, and Social Development in Africa".
Awol Wagris, Ethiopia State Minister of Federal and Pastoralist Affairs, delivered the opening speech of the conference: "Looking ahead," he said, "the greatest challenges our country faces with regard to the protection of religious freedom and promotion of religious pluralism are religious extremism, intolerance, and violent conflict." He added that addressing this challenge effectively requires the promotion of mutual understanding, respect, cooperation among governmental bodies, various religious communities, and the section of society that professes to be non-religious. [See AAU hosts African Conference on Law and Religion.]
The conference was designed to focus on the topic of religious pluralism in Africa, particularly in relation to contemporary questions of heritage and social development. "Heritage" is to be understood broadly as including religious, cultural, legal, and historical traditions, and the way these shape religious identities and societies in Africa today. The topic includes the challenges for organizations like UNESCO and ICOMOS to promote and protect heritage in diverse African contexts. The scope is broadened to include intangible as well as tangible heritage, and broader issues of religion and state, particularly in areas where multiple heritages and identities exist peacefully or come into conflict.
Participants discussed such topics as
State responses to religious pluralism and pluralization in Africa
Definition, creation, conservation, management, mobilization, and commodification of religious and spiritual heritage in the African context
Cooperation or tensions between international organizations, African states, and local communities over religious and spiritual heritage
Potential of national heritage policy and legislation to affirm or destabilize religion-state or interreligious relations, and religious pluralism in African states
Political, economic, and/or legal factors in religious and spiritual heritage formation and management in specific African case studies
Legal frameworks for renegotiating and memorializing the past and recognition of Africa's indigenous peoples
Challenges to the influence of Western colonial policies, legal systems, classifications, and terminology on African heritage management
Role of African traditional law or religion and heritage in social development
Economic, political, historical, and religious approaches to religious pluralism, heritage, and social development
Tensions between individual and collective rights in Africa
Interrelationship between custom, culture, ethnicity, and religion in Africa
Religious freedoms, rights, and responsibilities in Africa
Role of media/tourism/education/gender/war, conflict, and/or natural disaster in revaluing or devaluing religious traditions, customs, and heritage in Africa