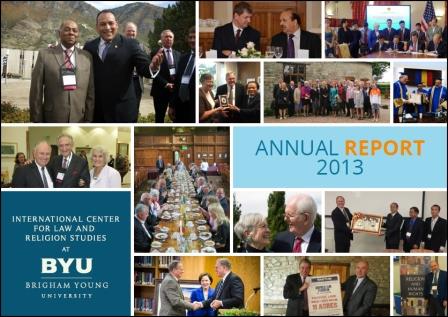 Dear Friends,
On behalf of all of us working at the International Center for Law and Religion Studies at BYU, I want to extend our warmest personal holiday greetings. We approach the conclusion of another year of endeavor with gratitude for new friendships made and longtime friendships strengthened and renewed.
Reviewing the events of the past year while preparing our 2013 Annual Report has reminded me of the remarkable opportunities we have had to collaborate with others. This year we held our 20th Annual International Law and Religion Symposium, devoted to discussions about "Religion and Human Rights." Over the years this annual event has brought nearly 1000 scholars and government officials from some 120 countries to Brigham Young University. We also hosted the biannual conference of the International Consortium for Law and Religion Studies ("ICLARS")—a Milan-based umbrella organization for law and religion scholars from around the world—in meetings held in Richmond, Williamsburg, and Charlottesville, Virginia. This gave the international membership of ICLARS a chance to spend time at some of the historical sites that witnessed the birth of religious freedom in America.
We are also grateful for opportunities to join with others in participating in conferences at the regional and national levels. We had the privilege of hosting the annual meeting of the Latin American Consortium for Religious Liberty this past August. We have been able to organize conferences in cooperation with academic institutions such as Oxford, Georgetown, and Peking Universities and have helped organize regional conferences this year focusing on Latin America, Eastern Europe, Western Europe, Asia, the Muslim world, and Africa. We also owe a special debt of gratitude to our colleagues at Central European University in Budapest, where we have enjoyed opportunities to teach students from around the world and to co-organize conferences since the mid-1990s.
In China and Vietnam, we have also worked with distinguished academic bodies and official government institutions, as well as a key collaborator, the Institute for Global Engagement, to implement certificate training programs. These two-week training courses bring together international scholars to train and certify local professors and teachers in the field of law and religion. These projects have led among other things to the signing of a memorandum of understanding with the government of Vietnam for further comparative work there on religion and law.
Beyond conferences and trainings, we have been engaged in many forms of outreach: we have participated in law reform efforts in a number of countries, including Ethiopia and the Dominican Republic. We have launched our law and religion news headlines service (to subscribe, click here). We have produced a number of significant publications (see Publications here), and have hosted a web-broadcast religious freedom discussion series (for more information, including links to PowerPoint presentations and video feeds, click here).
None of these activities would be possible without the significant support and collaboration of friends in many places. I want to mention specifically the members of our International Advisory Council and the generous donors who contributed to the Center's Cornerstone Endowment and the Sterling and Eleanor Colton Chair in Law and Religion. We are also always grateful for the efforts of our Academic Advisory Board and the Center staff and leadership. Representatives of all of these groups have traveled to and assisted with conferences and trainings, donated time and resources, and provided the continuous support needed for the operations of the Center.
One of the great blessings of this work in my life is the great privilege it affords to be associated with so many outstanding individuals, here at home, and in all parts of the world.
Thank you all for making this year such a rewarding and productive one!
W. Cole Durham, Jr.
Director, International Center for Law and Religion Studies