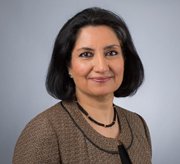 Bani Dugal is the Principal Representative of the Baha'i International Community to the UN. As part of the community of international NGOs at the UN since 1994, she is currently serving on the Steering Committee of the NGO Working Group on the Security Council. She has served as President of the NGO Committee on Freedom of Religion or Belief, as co-facilitator of the NGO Working Group on UN Access, co-facilitator of the GEAR campaign (Gender Equality Architecture Reform), Chair of the NGO Committee on the Status of Women, and Chair of the Global Forum of the NGO Committee on UNICEF and member of the Steering Committee of the NGO Committee on UNICEF's Working Group on Girls, Convenor of the NGO Committee on UNIFEM and Convenor of the Advocates for African Food Security.
Ms. Dugal holds a Masters degree (LL.M) in Environmental Law from Pace University School of Law, New York and a law degree (LL.B) from the University of Delhi, India. She has authored published articles, statements, and papers. Prior to relocating to the U.S. in 1988, she practiced law before the Supreme Court of India.
Among the many high-level events in which she was speaker or participated in another capacity, are: World Bank Faith Initiative (2015), UN Women Intergenerational Dialogue Day at the 59th CSW/Beijing+20 (2015), the World Economic Forum (2015, 2005), Ministerial Level panel on The Civil Society and the Education on Human Rights as a tool for promoting religious tolerance (2012), the International Inter-religious Conference on Faith in Human Rights in The Hague (2008), and the Conference commemorating the UN Declaration on Religious Tolerance and Non-Discrimination (2006), the Conference on Interfaith Cooperation for Peace – hosted by the Tripartite Forum comprised of 17 Member States, the World Bank, UNESCO, the UN DESA and the Committee of Religious NGOs at the United Nations (2005).